Sun-Mon 4-5 Sep 2016 - Golf Croquet Handicap Singles Club Tournament
Winner: Bob Cash Runner-up: Peter Dexter
This year's tournament was supported by 16 players and lasted over 2 days.
Players were randomly divided into two blocks of eight meaning that each one had seven games to play with the players
with most points in each group competing in the final.
After the first day scores were fairly even in block 1 with Kathryn Smith and Peter Dexter both on 3 points but in block 2 Bob Cash was leading on his own with 3.5 points.
By the end of all games Peter Dexter was declared winner in block 1 with 5.5 points closely followed in second place by Kathryn Smith.
In block 2 the gap was wider with Bob Cash clearly winning with 6.5 points followed by a tie for 2nd place between Fiona Russell and Ron George.
This gave us a final between Bob Cash and Peter Dexter. Members enjoyed watching a very tight and hard fought game with only 9 hoops being run before the time allowed had expired.
The final result was a win for Bob with 5 hoops to Peter's 4.
The very attractive trophy was presented to Bob by Joyce Wilson, following which we all enjoyed tea - and chat.
Congratulations to all who took part and contributed to an enjoyable two days of play.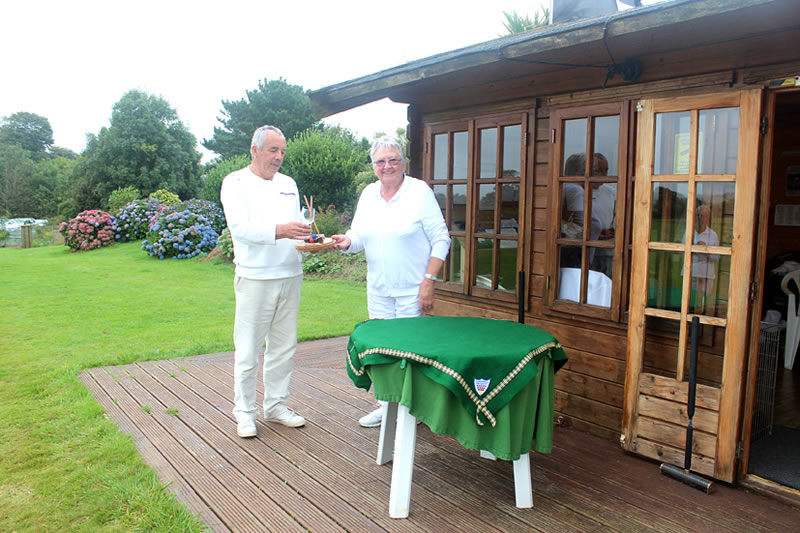 Joyce Wilson presents The Joyce Wilson Trophy to the winner, Bob Cash
Report by Rhona Foster.