Thu 16 June 2016 - SWF 'B' League
(Played at Sidmouth CC)
Sidmouth v Cornwall
The day began well with four players arriving from different venues. Elizabeth Scofield playing in her first "B" League match. The weather fine and sunny.
The morning for Cornwall was a "wash out " when, although enjoyable , we all lost our games.
Then came lunch....great embarrassment for the hosts as lunch was not to be seen anywhere! However we tucked in to crisps from the bar and waited for the kitchen staff to arrive with goodies from Waitrose.
After lunch we resumed the tournament...that is until the torrential rain and thunder arrived. After an hour of hoping that the large puddles would drain and that the sky might return to azure blue we decided that the match would have to be abandoned.
With heavy hearts we set off for Cornwall only to find that about 3 miles down the road it was completely dry!
To be continued....maybe!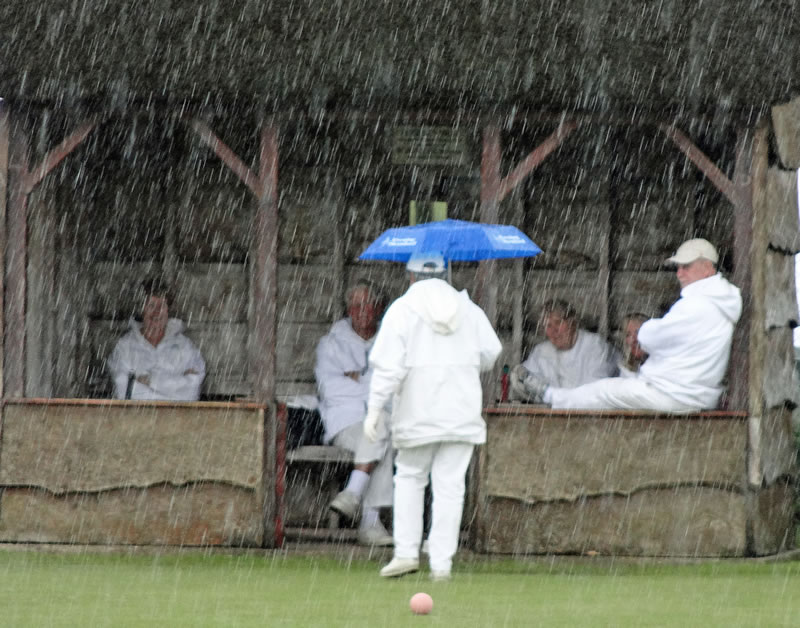 Dorianne braves the downpour to confer!
Final Score: match abandoned (weather)
Report by Dorianne Forsdick. Phot by Rhona Foster.