Sun 13 Sep 2015 - SWF Federation League Semi Final
(Played at Cornwall CC)
Cornwall v Bath
The weather stayed fine for most of the match which made playing more agreeable for all.
Cornwall's team were Peter Cutting(5), Des Honey (8), Tony Jennings (14) and Ian Wilson (5).
Bath's team were Norman Connor (11), Paul Francis (5-Capt), Bob Hart (12) and Folke Pope (12).
Tony Backhouse (Cornwall) was Referee. All matches were time limited to 3hrs 15mins.
The morning matches comprised one doubles & two singles matches. The doubles with Honey and Jennings against Francis and Hart turned into a protracted affair with some interesting tactical play towards the end with the Cornwall pair winning by two points ahead on Time (+2T).
The singles matches were a mixed bag with Wilson playing poorly and losing to Pope by 24 points; Pope starting nervously but soon getting into his rhythm and playing well. The other game between Cutting and Connor was more interesting with Cutting first gaining a lead and then being caught up by Connnor, who continued to play well even after using all his bisques, but Peter eventually won by one point on time (+1T) - a good match for spectators.
After lunch, four singles matches were played. Honey and Francis played a very entertaining game with Des initially leading but Francis then pulling back and winning by 17 points after a splendid break of 13 (including 2 peels). Another good one for the many spectators.
Jenning & Hart played a very protracted game with Jenning eventually winning on time by 17 points.
Cutting & Pope played a game, again in "two halves", with Pope eventually winning by 7 points and continuing to play well even after his seven bisques were gone.
The final game, Wilson v Connor, produced an easy win for Connor by 25 points, who played well before & after using his six bisques and Wilson not making anything happen at all.
Final Score: Cornwall 3 Bath 4
Bath now go to the Final against Broadwas on 27 Sep at Sidmouth.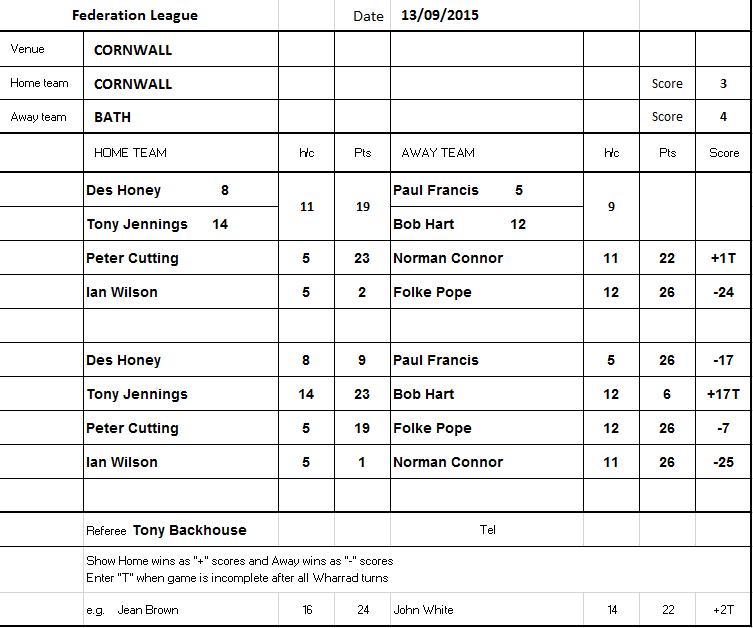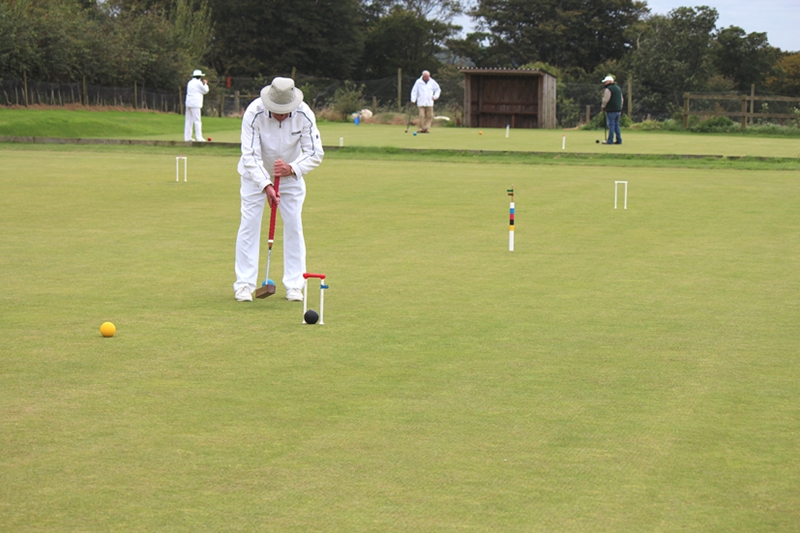 Afternoon singles, Tony Jennings(C) runs Rover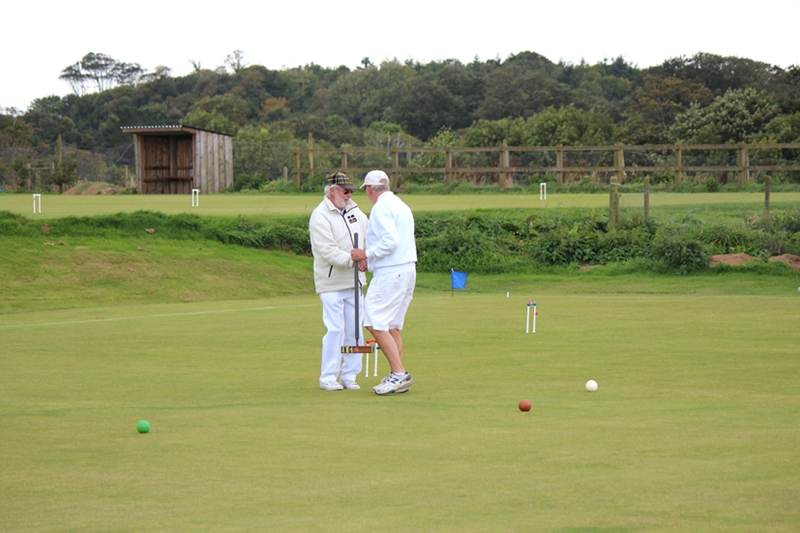 Afternoon singles, Norman Conner(B) wins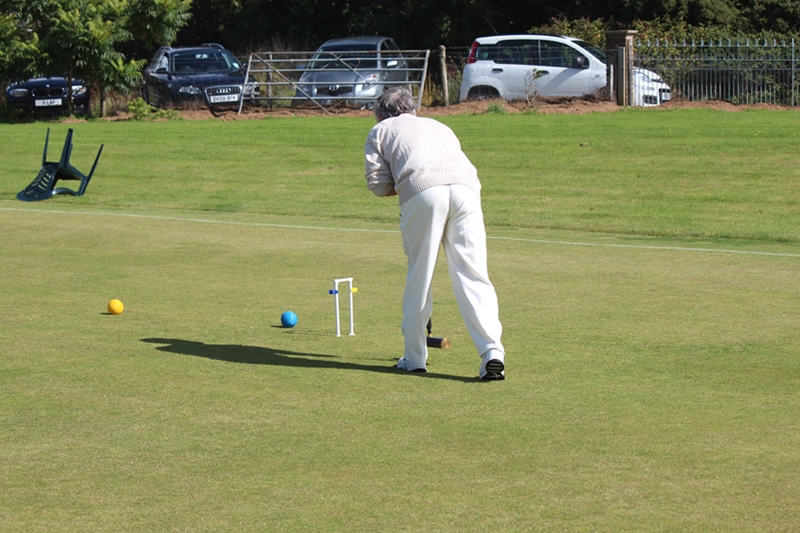 Morning singles, Peter Cutting(C) runs 3-back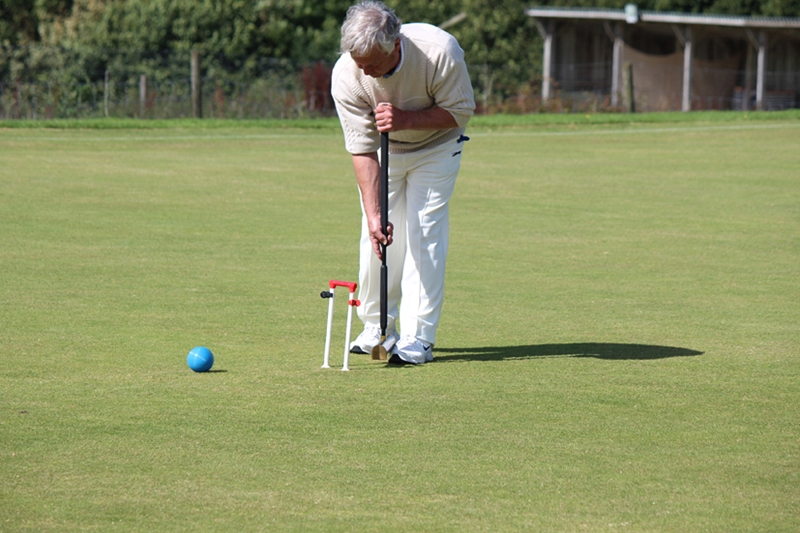 Morning singles Peter Cutting(C) runs Rover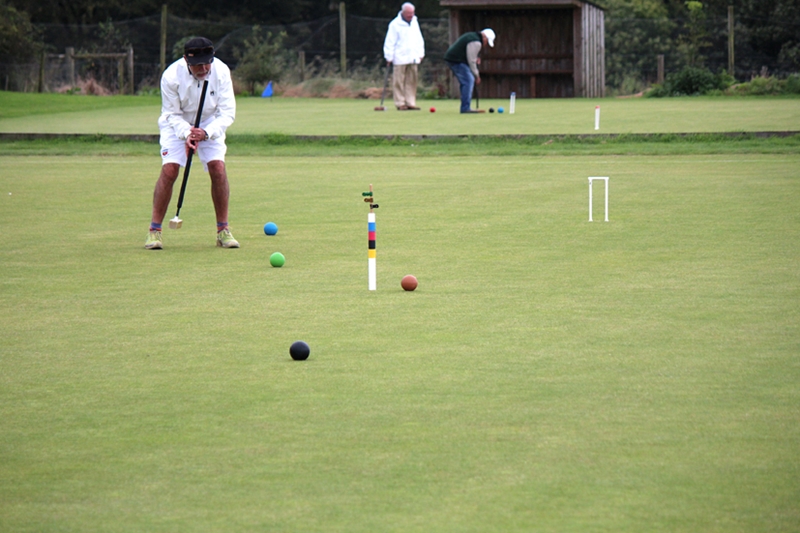 Paul Francis(B) pegging out to win the game
Photos by Stephen Read.