Wed 29 Jul 2015 - SWF Federation League
(Played at Exeter CC)
Exeter v Cornwall
Cornwall played its final Federation League match away at Exeter in fine weather and on Exeter's good courts.
In the morning the Cornwall doubles partnership of Peter Cutting (5) & Des Honey (8) had a hard time of it with each player struggling to gain the innings and stay in, eventually being whitewashed by the opponents who had a handicap advantage of 4 bisques .
Cornwall's Ian Wilson (5) won a very tight singles game which, in fact, could have gone to either player.
In the afternoon the three singles games were tightly contested with Exeter's Lloyd Kimber (9) claiming victory over Ian Wilson with very consistent play and solid tactics. Peter Cutting's game against Richard Hitchens was quite eventful with Peter eventually coming out on top by eleven points. The third game between Des Honey and Mark Macnair (7) was a very tight affair with an exciting climax keeping the spectators and the other players on the edge of their seats, with Des finally winning by +4.
The match was followed by one of Exeter's excellent teas, outside in the sunshine. Peter Cutting, Cornwall's Captain thanked Exeter for the excelllent games and hospitality.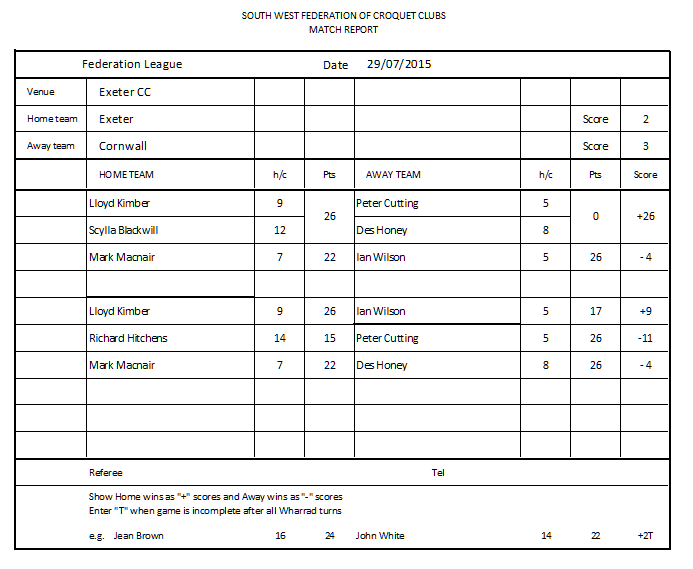 Final Score: Exeter 2 Cornwall 3
Report by Ian Wilson.