Thu 02 Jul 2015 - SWF Golf Croquet League
(Played at Barnstaple CC)
Barnstaple v Cornwall Porthpean
Porthpean team received a warm welcome from members of the Barnstaple club when they arrived
in much cooler conditions than had been experienced for the days leading up to the match. Whilst
pairings for the first games were being decided the rain started and then didn't let up until after
lunch.
The match started with two doubles games. These were followed by singles games until lunchtime.
At this point the two teams' scores were level, leaving all to play for in the afternoon.
Barnstaple provided a lovely lunch under one of their two gazebos, with the promise that we could have cake and tea at the end of the day if we didn't eat all the cake up then! After lunch all that remained was for the remaining doubles games to be played to decide the match.
In the first of these Porthpean was represented by Howard Rosevear and Rhona Foster and after a relatively short game Porthpean came away with a 7 – 1 win. This left the possible outcome of the match still in the balance.
In the remaining doubles game Porthpean was represented by Janet Bell and Trevor Bainbridge. This game proved to be a real 'nail-biter' up to the end with Porthpean coming out on top 7 – 5.
The day ended with tea and coffee accompanied by sandwiches and cake.
The members of Porthpean team had enjoyed a good day of close games in the very welcoming company of the Barnstaple club and returned home pleased with the result.
Final Score: Barnstaple 9½ Cornwall Porthpean 10½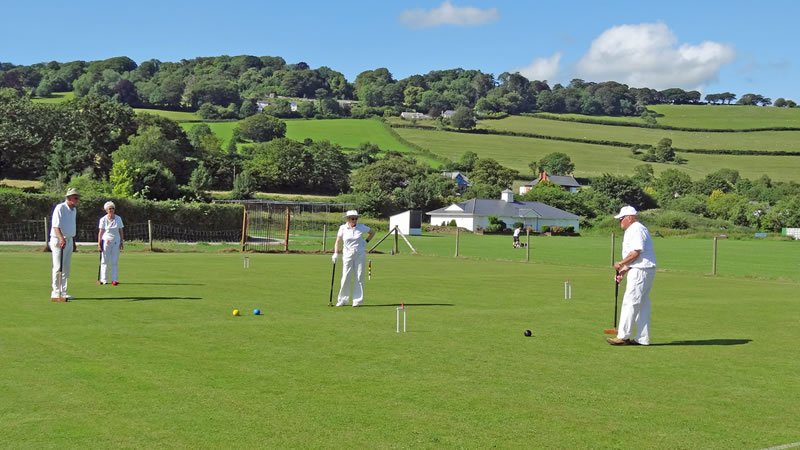 Janet and Trevor fighting to win
Report & Photo by Rhona Foster