Tue 2 Jun 2015 - SWF Golf Croquet League
(Played at Budleigh Salterton CC)
Budleigh Salterton v Cornwall Porthpean
Budleigh's lawns were running very fast and it took the Cornwall team some time to adjust.
The day started with the first two "Doubles" games and resulted in each team taking a point. Next followed a series of "Singles". Rhona Foster had two goods wins, firstly beating the Budleigh Captain Tom Pyne 7-3 and then David White 7-2. Many of the games were very close but by the end of play Budleigh took the match 12-8.
Budleigh provided a lovely tea which was arranged beautifully on tables outside in the sunshine, giving the players time to reflect on the day. The Porthpean team returned home feeling very pleased with their result as they had all played well against a strong Budleigh team.
Porthpean team: Kathryn Smith, Gill Clark, Joyce Wilson, Janet Bell, Rhona Foster, Howard Rosevear.
Budleigh Salterton team: Tom Pyne, Linda Hicks, Ian Stratford, Geraldine O' Boyell, Pat Meredith, Bridget Andrews, David and Ann White.
Final Score: Budleigh Salterton 12 Cornwall Porthpean 8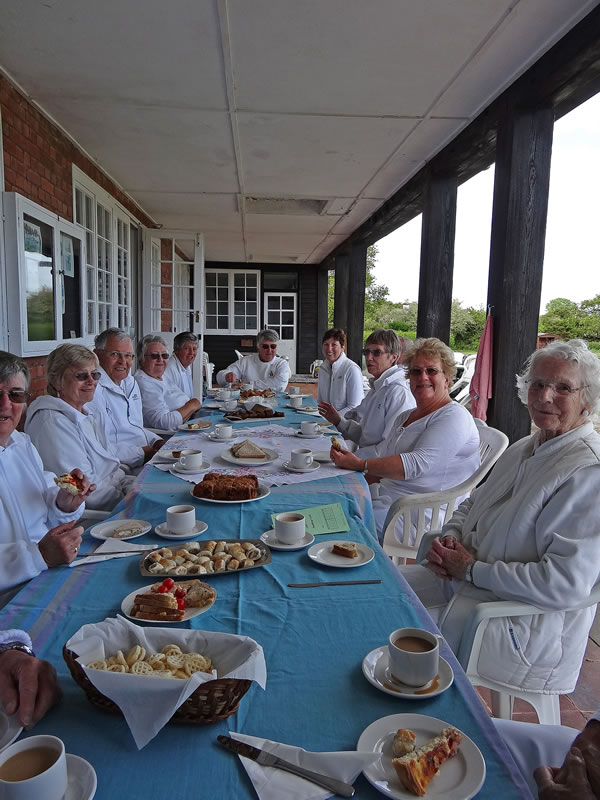 The end of an enjoyable day at Budleigh Salterton
Report by Kathryn Smith. Photo by Rhona Foster.