Tue 26 May 2015 - SWF Golf Croquet League
(Played at Exeter CC)
Exeter v Cornwall Porthpean
The weather was cloudy to start with but brightened as the day went along.
The "Doubles" games were played first and the Porthpean team won all four with ease.
By lunch time Porthpean had only dropped two points.
The Exeter Club laid on a wonderful lunch which was eaten outside in glorious sunshine.
During the afternoon session Porthpean won all their games and returned to Cornwall feeling very pleased with how the day had gone.
Porthpean team: Kathryn Smith, Rhona Foster, Janet Bell, Howard Rosevear, Trevor Bainbridge, Joyce Wilson, Gill Clark.
Exeter team; Mary Ann Relf, Ann Steward, Monica Smale, Joy Nield, Brian Stoneman, Sue Stoneman.
Final Score: Exeter 2 Cornwall Porthpean 18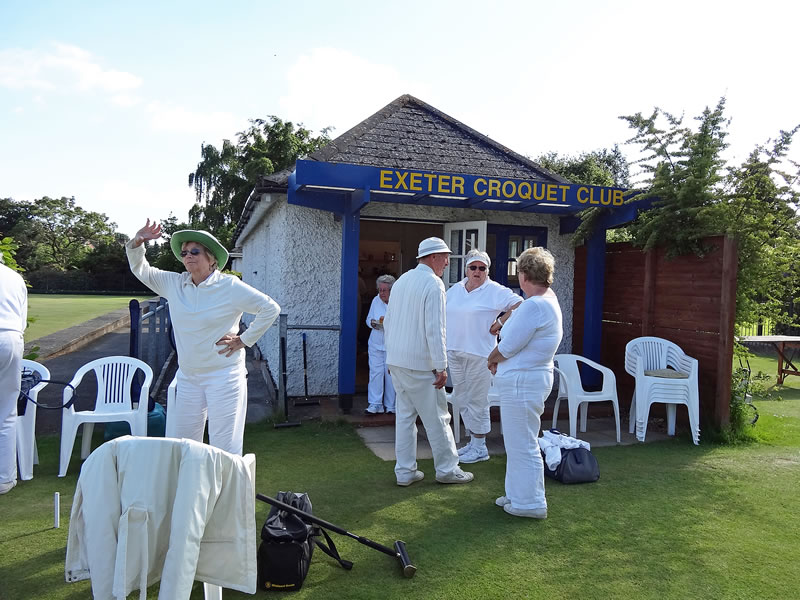 Janet practices her celebratory dance after Cornwall Porthpean's win at Exeter
Photo by Rhona Foster.