Sat-Sun 26-27 Jul 2014 - Wilson Salvers Association Croquet Doubles
Winners: Dorianne Forsdick & Jenny Burrows
Six pairs took part in this annual club competition. The first day was a mixed bag with many players not playing to their normal form, possibly due to the very warm and close weather. The courts were all playing beautifully so we could not blame them:-)
Playing improved on the second day under more comfortable conditions.
One partnership stood out with their consistent play, the only pair to gain 4 wins from 5 games, namely Dorianne Forsdick and Jenny Burrows - the well deserved winners.
Colin Hadley was applauded and congratulated on managing the event so efficiently, which added to everyones enjoyment of the two days.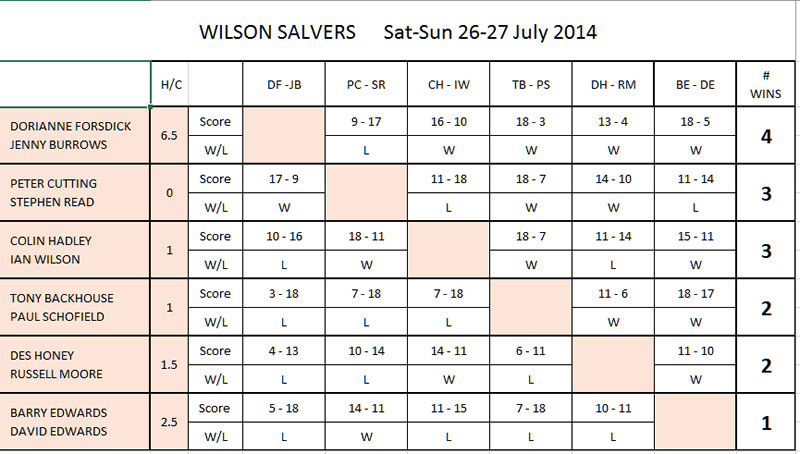 The Winners - Jenny Burrows & Dorianne Forsdick
Jenny Burrows double peels red & yellow through Penult
Jenny Burrows & Dorianne Forsdick being presented
with their trophies by Ian Wilson (donor)
Peter Cutting runs green through Penult to join brown on Rover
Ian Wilson lining up and completing a double peel on rover
Photos by Stephen & Margaret Read.