Thu 8 May 2014 - SWF Golf Croquet League - Level Play
(Played at Swanage CC)
Swanage v Cornwall
Cornwall's level play golf croquet team played Swanage in the first of two matches on successive days. We hadn't really expected too much from this fixture, our first of the season, as we had been told that Swanage had never lost a match at home! On seeing their lawns, we were not surprised. Swanage share facilities with the local cricket club, and play on the outfield, which is sloping, with numerous humps & bumps, and cut only to outfield length. Local knowledge is very much at a premium. It very quickly became apparent that Swanage's team had the knowledge, although even they were caught out at times.
Early heavy rain had threatened to make the lawns unplayable, particularly as conditions were forecast to remain wet all day. However, by mid morning, the rain had cleared, and after a late start, the match was completed without further interruption. Cornwall unsurprisingly struggled with the conditions, but began to get some feel for the lawns as the match progressed. Nonetheless, the home side were never in danger of losing their unbeaten at home record, and the final result was Swanage 13, Cornwall 7.
Cornwall's team were D. Edwards (capt) handicap 3, S. Read (3), D. Honey (4), R. George (4), B Edwards (8), M. Read (8), and P. George (10).
Swanage were represented by K. Southern (capt), (2), W. Ormerod (0), T. Allan (3), S. Allan (7) & M. Ormerod (7).
Final Score: Swanage 13 Cornwall 7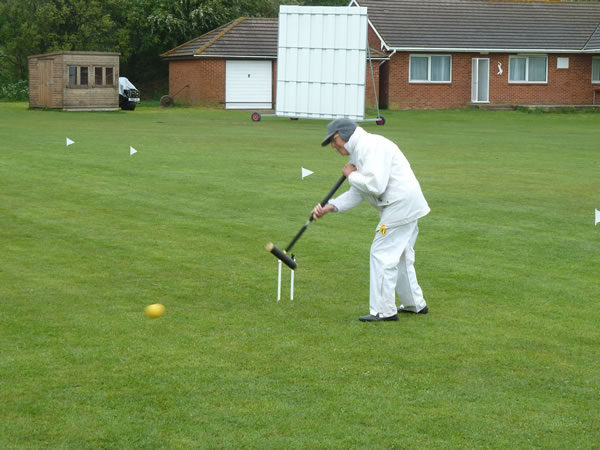 Margaret Read plays a shot which seems to have taken off!
Photo by Stephen Read