Sunday 13 Apr 2014 - SWF Short Croquet Tournament
(Played at Nailsea CC)
Two teams of 4 players each travelled away for the traditional Short Lawn Tournament to start the 2014 season.
We were welcomed by fine weather and many friends at the Nailsea Croquet Club.
Cornwall was represented by Jenny Burrows, Ron George, Des Honey and Ian Wilson and Fowey by Rosemary Bradshaw, David Edwards, Tony Jennings and Stephen Read.
Both teams were playing in Division 1 and playing 4 rounds of 4 matches.
Nailsea Trendlewood won for the fourth time in five years, but it took a golden hoop in their final game against Kington Langley to avoid a penalty shoot-out at the peg.
However a penalty shoot-out was needed between Fowey and Cornwall to determine which team would be relegated to Division 2. Only one player, Stephen Read, managed to hit the peg, and so Fowey remain in Division 1.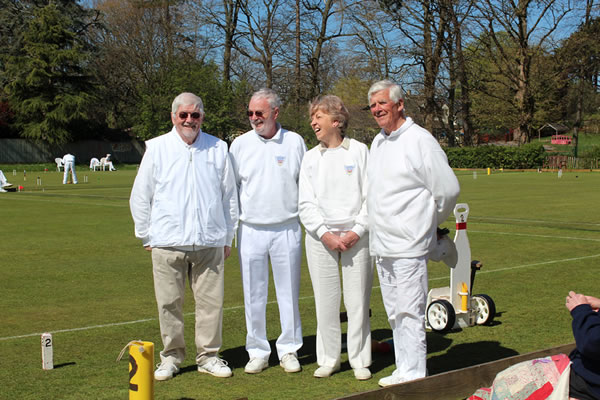 The Cornwall Team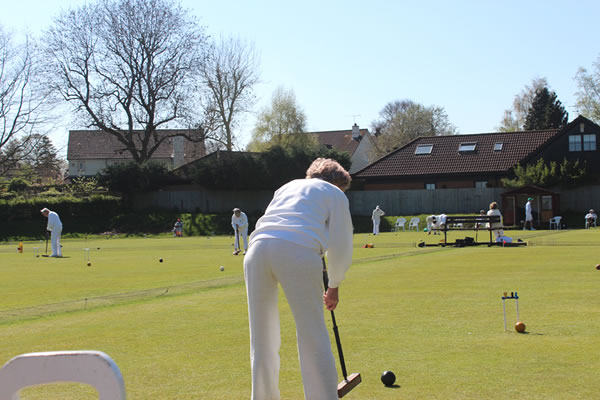 Jenny Burrows about to roquet
Report by Des Honey. Photos by Stephen Read.