Fri 02 Aug 2013 - SWF Golf League Level Play
(Played at Cornwall CC)
Cornwall v Budleigh Salterton
Cornwall Croquet Club entertained Budleigh Salterton on August 2nd, to play Cornwall's third level play golf croquet match of the season. Cornwall were represented by a team of seven, Budleigh by five. Budleigh's players' handicaps were in general slightly lower than Cornwall's, which meant that if the handicap system worked perfectly, Budleigh should win but not by a large margin.
Conditions were good, the lawns quickly drying out and speeding up after some overnight rain. The four doubles were played first, and by the time these were played, it looked as though Budleigh might have an easier win than the handicaps would suggest, with 3.5 points to Cornwall's 0.5. However, the subsequent singles were closely contested, with neither side gaining any further advantage, the 16 singles ending with an 8-all tally.
The match result therefore proved to have been decided by the opening doubles games, and the overall result was very much as the handicaps would have suggested.
The teams were:
Cornwall: K. Smith (handicap 5); K. Moorshead (5); P. Schofield (5); R. George (4);
D. Honey (4); S. Read (3); D. Edwards (2).
Budleigh: K. Scales (4); T. Pyne (4); A. Rush (3); C. Donovan (2); R. Weeks (2).
Final Score: Cornwall 8.5 Budleigh Salterton 11.5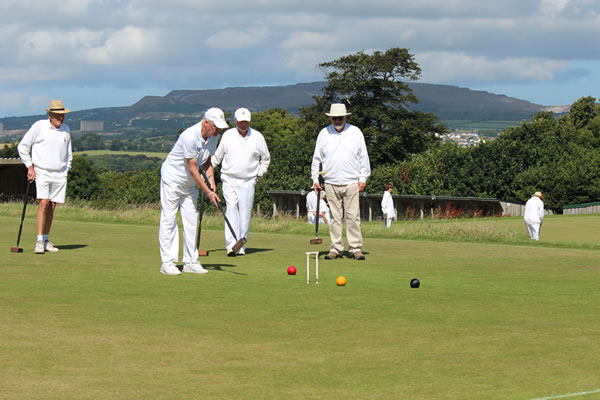 Doubles - David Edwards(C) runs hoop 4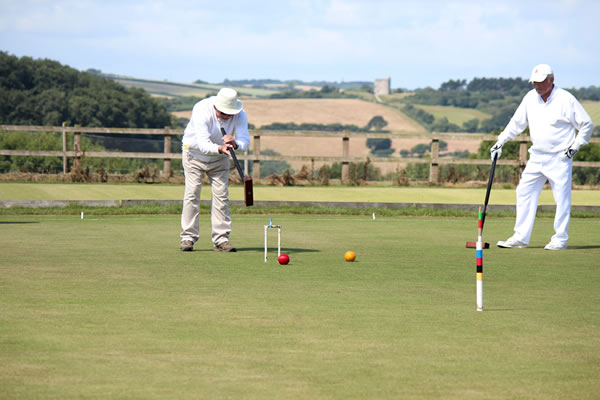 Doubles - Des Honey runs hoop 11
Photos by Stephen Read