Thu 13 Jun 2013 - SWF B League
(Played at Wellington CC)
Wellington v Cornwall
Three members of the club travelled to Wellington for the 'B' League Association match.
Wellington had three secret weapons that were used as the day progressed:) The first, and obvious from the start, was the actual lawn that was anything but flat and had so many undulations that it was very difficult to play a straight shot. The wet grass made it even more difficult to get any length on the balls.
In the morning session there was a doubles game, played by Jenny Burrows (20) and Ron George (20) against 22 and 16 handicaps. Ron managed to peel both balls through hoop 1, but then remained on hoop2, with his own ball, until almost the end of the game when, with scores at 8 to 4 he somehow managed to wake up and take his ball around to the peg, and snatch a one-point lead at 9 to 8, which was the score when the bell went and the opponents on the lawn. Jenny almost managed two more hoops but the match went to Cornwall 10 to 8.
Meanwhile, Dorianne Forsdick (20) went storming ahead, finding that her usual hard hitting was a bonus on the slow grass eventually winning by 14 to 7. Nobody ever looked like sending a croquet shot off the lawn. So, two-nil to Cornwall at lunchtime, when the Wellington side played their second secret weapon – a delicious lunch consisting of Coronation Chicken with rice, followed by strawberries with a cream-filled meringue. Lunch was taken outside under the oak trees.
The third secret weapon was about to be unleashed – tertiary balls. Yes, we played the afternoon games with three games on one lawn and three sets of balls. We quickly got used to that format, but there were so many more hold-ups than with a normal two-game which slowed everything down. Both Jenny and Dorianne went steaming ahead, each playing against one of the two 22 handicappers. The lawns had dried out considerably, but long shots were still difficult to achieve. Both ladies had little trouble in pegging out towards the end of the time period with scores of 10 and 9 gainst them.
Meanwhile, Ron was finding the tertiary balls tricky to play with, the broad white stripe, on each ball, tending to distort the vision of the ball when hitting it (well, that's his excuse). As in the morning, nothing seemed to go right, and both balls were stuck on hoop2 for most of the game. However, by some miracle and two good breaks, the score at the end was 12 to 11 when the Wellington player ran hoop 6 with the last shot of the match.
So, a 4 to 1 victory for Cornwall after a very pleasant day in lovely surroundings and with very pleasant company.
With one game to go, against Exeter away, the team has won all three games played so far.
Final Score: Wellington 1 Cornwall 4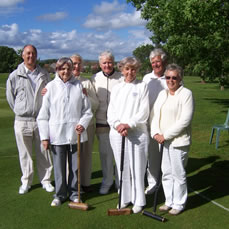 SWF B League - Cornwall v Wellington - Thu 13 Jun 2013