Sun 23 Sep 2012 - SWF B League Final
(Played at Taunton CC)
Cornwall v Bristol
Reporting back after foray into Somerset. It rained all the way up and all the way back and all the time in the middle when we were at the Taunton Deane Croquet Club who were hosting this Final between Cornwall and Bristol.
However. the Cornwall team being used to rain, were not deterred and returned again with the 'Shergold' Cup which they had won last year at Bath and which they had taken up with them.
Cornwall followed the previous week's form - Ron and Jenny won the doubles, Dorianne and Tony won their singles. Happy lunch break with Cornwall 3-0 up.
Then, as at Poole in the Semi, three quarters of the Cornish team lost the plot. Three had succumbed to opponents pegging out ahead of 'time' but, virtually on the bell, Dorianne saved the match by pegging out against her opponent.
This avenges the defeat of the Cornish Pirates Rugby team by Bristol last Sunday 29-17 :-)
Final Score: Cornwall 4 Bristol 3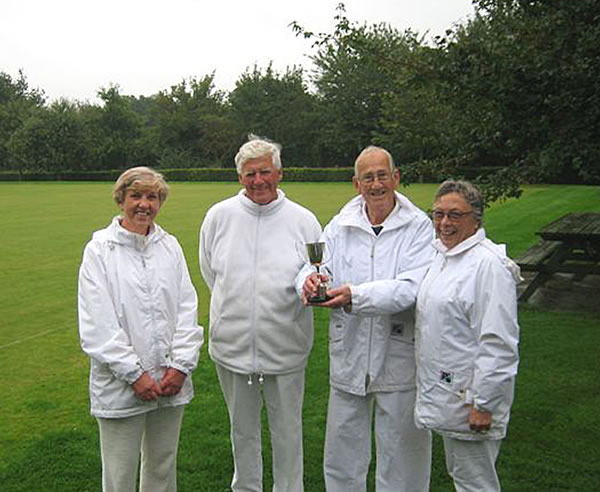 SWF B League Final - Cornwall's winning team
Left to right: Jenny Burrows, Ron George, Tony Dyson, Dorianne Forsdick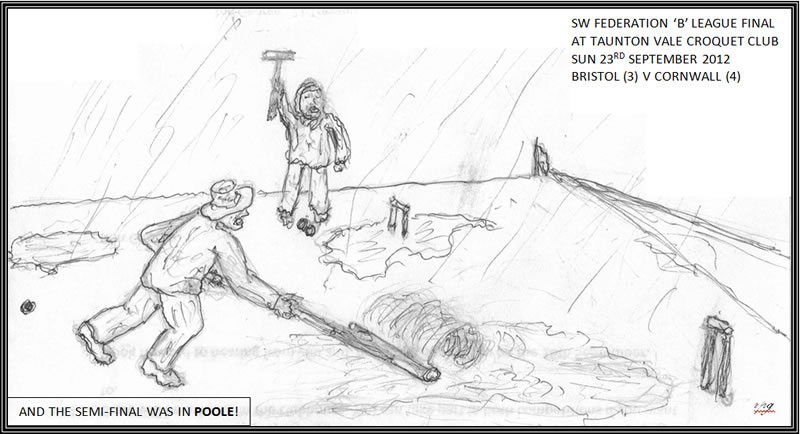 Cartoon by Ron George