Tue 11 Sep 2012 - SWF B League Semi-Final
(Played at East Dorset CC)
East Dorset v Cornwall
Cornwall, champions of the southwest area met East Dorset the champions of the southeast area in the semi-final match played at Poole, the home ground of the Dorset team. A very lovely venue - with Tennis and Croquet facilities, a well appointed pavillion with professional catering. We would not argue their claim to have lawns among the best in the country.
The Cornwall team was Jenny Burrows (20), Ron George (20) Dorianne Forsdick (24) and Tony Dyson (16).
The morning games went well for Cornwall. Jenny and Ron won the doubles game, Dorianne and Tony won their singles games. A happy lunch hour for Cornwall, especially for Dorianne having her first outing for the Club in Association Croquet.
Only one win out of the four singles games in the afternoon would be required for Cornwall to win the match.
Matters did not go well for Cornwall. Tony was thrashed 3-14, Dorianne put up a good fight but lost 10-14 and Jenny narrowly trailed 11-13 at the bell.
At the bell Ron and his opponent were 9 hoops each. All eyes were now focussed on this one game as the players sought that golden hoop. It fell to Ron to take the honours and secure for Cornwall that one game needed to win the match.
Cornwall will now meet the winners of the Northwest area, Bristol, and the Northeast, Swindon.
The final scheduled to take place at Taunton on Sunday 23rd September.
Final Score: East Dorset 3 Cornwall 4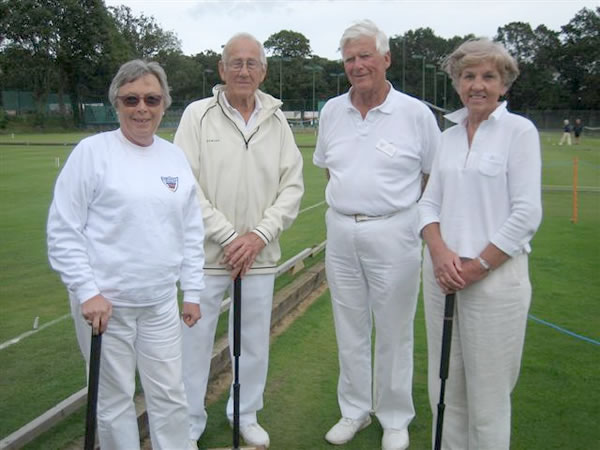 SWF B-League SemiFinal - Cornwall Team
Dorianne Forsdick, Tony Dyson, Ron George and Jenny Burrows