Sun 14 Aug 2011 - SWF Intermediate League Semi-Final
(played at Abbey Glastonbury)
Abbey Glastonbury v Cornwall
On Sunday 14th August, the Intermediate team visited Abbey Glastonbury for the area semi-finals. Abbey are a small club, who play in Street in an area which is part of a large sports & social complex, originally owned by Clarks. Cornwall knew that they would have a difficult match, as Abbey had won all of their group matches, with margins of 5:0, 5:0, 5:0, and 4:1. This suggested that they were playing well up to their handicaps!
Cornwall sent a team of four, Des Honey, handicap 14, Tony Jennings (16), Peter Cutting (12), and David Edwards (9), and Abbey also fielded four. The normal format for such a match would involve playing 7 games. However, Abbey have only one lawn, and this, together with the limitations of available time, meant that only five games could be played. They consisted of a full length (26 point) doubles, double banked with a 26pt singles in the morning, with a pair of double-banked 18pt 2 hour singles, followed by a further 18 point single in the afternoon. While accepting that Abbey could do little else, Cornwall did not feel that a curtailed format as above was really appropriate for a semi-final.
The morning doubles matched Cutting & Honey against Abbey's Moody (11) and Wall(16). Cornwall's players found it difficult to get used to the rather uneven & slow lawn, but fared well enough in the early stages, until Moody, playing with the Solomon grip, got into his stride, and playing very well took the game out of Cornwall's reach. Score, Abbey 26, Cornwall 15. However, Jennings immediately hit fine form, and making very few mistakes, dispatched Abbey's Tudgee (14) in short time, winning 26-3. So, one all at lunch.
The double-banked afternoon singles saw a totally out-of-form Edwards soundly beaten by Wall, 9-18, this bringing Wall's handicap down to 14. What proved to be the pivotal game of the day was between Cutting & Moody, Cutting having a half-bisque. Initially, the game went Cutting's way, with Moody not playing with the same assurance as in the morning. However, he came back and as time approached, it was neck & neck, and very tense. Cutting had an angled hoop shot at penult, but it failed, with Moody's ballclose by. This gave Moody the advantage, and with Cutting not bringing off a longish attempted hit-in on his last turn, the game went to Moody 14-13. In the final game, with no real pressure, Abbey having a 3-1 lead, Honey played Balch (18). Balch, with 3 bisques, roared off in fine style, soon being on the back straight without having used any of his bisques. However, Honey was playing well & consistently, and was clawing back the deficit when Balch got himself into trouble at 3-back, and used all his bisques to extricate himself. This proved to be his undoing, and in the end Honey cruised home a comfortable winner at 18-9.
So final result, Abbey Glastonbury 3, Cornwall 2. Cornwall at least had the consolation of taking two games against Abbey, when the rest of their group competitors had only managed one between them!
Final Score: Abbey Glastonbury 3 Cornwall 2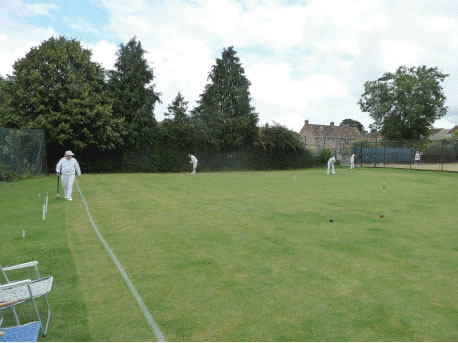 Abbey's lonesome lawn - Des strides back purposefully :-)