Thu 23 - Sun 26 June 2011 - European Croquet Team Championship at Cheltenham
Won by the Jersey Team (a member of which is a Cornwall Club member, Richard Griffiths)
In a closely fought competition held at Cheltenham Croquet Club last week (June 23-26), Jersey-born Richard Griffiths - now living in Trevone, and vice-Chairman of Cornwall Croquet Club - was a member of the 3-player Jersey team competing in the European Croquet Team Championship. Twelve European countries took part in this 4-day event, held every two years. Team members were Tony Le Moignan (captain), Matthew Burrow and Richard Griffiths.
In the qualifying rounds to determine the semi-final places, Jersey beat Germany, Sweden and Scotland on the first day, then England and Switzerland the following day. This put them in first place for the semi-finals, playing 4th-placed England, while Scotland faced Ireland in the other semi. Scotland beat Ireland 2-1 while Jersey defeated England by the same scoreline.
The final was played over 2 days and came right down to the wire, with both nations level at one match all, and the deciding best-of-three match tied at 1-1. After a lengthy third game in which both players showed signs of nerves in front of the spectators on Cheltenham's show lawn, it looked all over as Scotland's Martin Murray lined up his shot to peg-out both balls to win by 26 points to Richard's 23. The Jersey team were already congratulating Scotland and saying their farewells in readiness for a quick getaway to make their flight from Bristol Airport. But it was not to be, as Martin's front ball missed the peg. Pegging out his other ball for a score of 25 to 23, he left Richard with a 16-yard shot for a possible win. As Richard went back on the lawn to take the shot the crowd fell silent, seeing the remote possibility of a hit from that distance. The ball held its line and struck partner ball to vigorous applause, and Richard completed the break, pegging-out both balls for a win by 1 point to give Jersey the title. They missed their flight home and instead celebrated overnight in Trevone.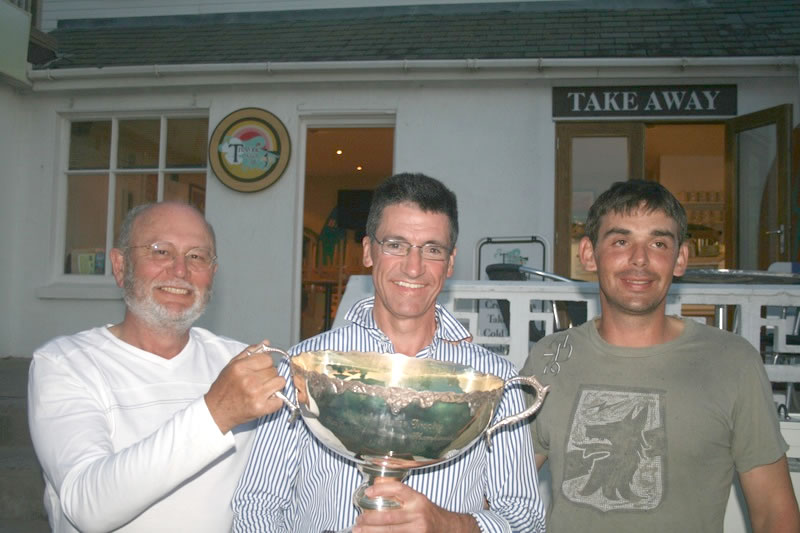 The 2011 European Croquet Team Champions, Jersey, celebrating at the Trevone Beach Cafe, having missed their flight home.
Left to right: Richard Griffiths, Tony Le Moignan and Matthew Burrow.