Thu 23 Jun 2011- SWF Golf Croquet League
Cornwall Rosevear v Budleigh Salterton at Cornwall CC
Cornwall's Golf Croquet team played Budleigh Salterton at home, hoping to gain a win in what so far has been a not very successful season, with only one win from three matches.
Conditions were dry and largely sunny, but with a brisk and cool northwest wind – the warm clothing worn by all did not suggest "flaming June".
The morning's play started with four sets of doubles, played single banked. Of these, Cornwall managed one win, Liz & Des Honey winning 7-5 against Barbara Thompson & Michael Peters.
Four singles followed, double banked, all games being played to 45-minute time limits, clocks being stopped if players were held up by the other game. Cornwall managed one win, a draw & two losses, giving Budleigh a useful lead at lunchtime of 3 points.
The afternoon play completed the singles, with Cornwall really needing to find form if the match was to be won. However, the best that could be achieved was four wins and two draws (5 points) against Budleigh's six wins & two draws, (7 points).
Teams were – Cornwall: Des Honey (handicap 3), Liz Honey (10), Ron George (5), Pam George (9), David Edwards (4), Barry Edwards (10), Margaret Read (9).
Budleigh: Tom Pyne (8), Sue Pyne (8), Barbara Thompson (8), Michael Peters (7), Pat Meredith (8), Ivor Meredith (7).
Final Score: Cornwall 7.5, Budleigh 12.5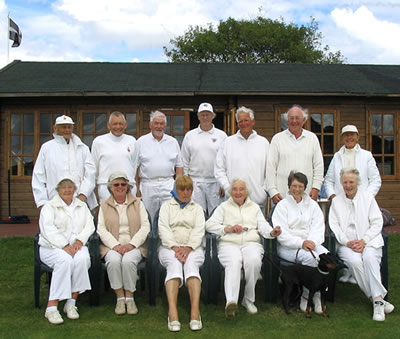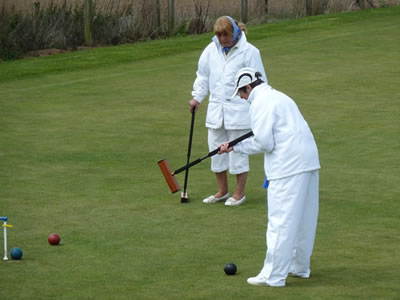 The Teams - Cornwall (C) & Budleigh Salterton (BS):-

Standing left to right:
Ivor Meredith(BS), Tom Pyne(BS), Des Honey(C), David Edwards(C), Ron George( C),Michael Peters(BS), Margaret Read(C).
Seated left to right:
Pam George(C), Liz Honey(C), Barry Edwards(C), Barbara Thompson(BS), Sue Pyne(BS), Pat Meredith(BS).