Tue 17 May 2011 - SWF Golf Croquet League
Barnstaple

v Cornwall Porthpean at Barnstaple

After the first 8 singles games it was level at 4 games each but by lunch time Barnstaple had pulled ahead 7 games to 5.

The afternoon play commenced with a further 4 singles games when Porthpean pulled ahead, 8 games to 7.

The match was finally decided by the following 4 doubles games which Porthpean won, 3 games to 1.

Portpean Team Captain - Joyce Wilson

Final Score: Porthpean 11 Barnstaple 9.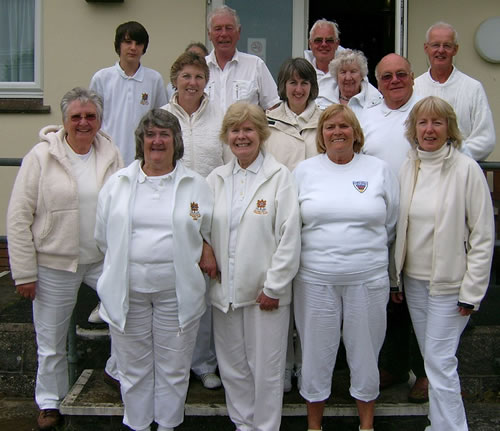 From left to right:
Back row, Jake Bentley-Jones(B), Tony Jennings(P), Michael Fane(B), Velda Masterson(B), David White(B).
Middle row, Joyce Wilson(P), Kathryn Smith(P), Kathleen Moorshead(P), Trevor Bainbridge(P),
Front row, Ann White(B), Ruby Featherstone(P), Maggie ?(P), ?(P)