Sat 25 Sep 2010 - Golf Croquet Handicap Singles FINAL
On a chilly, blustery afternoon, Elizabeth Schofield and David Edwards met to play the final of the Golf Singles Final, having earned the right to do so in the preliminary round two weeks previously; when 20 others vied for the opportunity.
Elizabeth won the toss and started with a ball that landed well short of the hoop. David's first, and Elizabeth's second also fell short, allowing David to get into a running position with his second ball. However, Elizabeth knocked David's ball away, and he reciprocated by despatching both of Elizabeth's to the boundaries with his next turns.
The first hoop went to David, but the accurate defence play was to continue throughout the match, particularly by David, and the second hoop took over ten minutes to run. The game continued to be equally rewarding, with each player taking the lead but then losing again.
At five – three to Elizabeth and, poised to run hoop nine, she looked favourite to win the game, but David had other ideas and levelled the game at five all, and again at six all.
Time was now running out, with only two minutes left on the clock. Just before the bell went, Elizabeth had an oblique shot at the hoop, which the spectators thought was through, but the players knew that it wasn't, and David was in a position to knock it back.
The extension turns – four shots each – failed to get a result until, with the final shot of the game, Elizabeth managed to run the hoop and win the first game.
In the second game, as in the first, Elizabeth had three extra turns and used them effectively to clear David's ball and to leave hers in a commanding position. The second game went much the same as the first, with accurate play by both players. However, by hoop ten David was two hoops down and was forced to try long clearing shots, knowing that Elizabeth still had not used all her extra turns. At hoop eleven he managed get within one shot and needed the next hoop to go to the golden hoop again. But Elizabeth was not to be beaten and made a very good approach to the twelfth hoop.
David had a shot from well out, and might have run the hoop had the ball not veered off course at the last minute.
But it was Elizabeth's day, and she ran out a worthy winner by 2 games to 0; retaining the trophy that she won last year.
Final Score: Elizbathe Schofield 2 David Edwards 0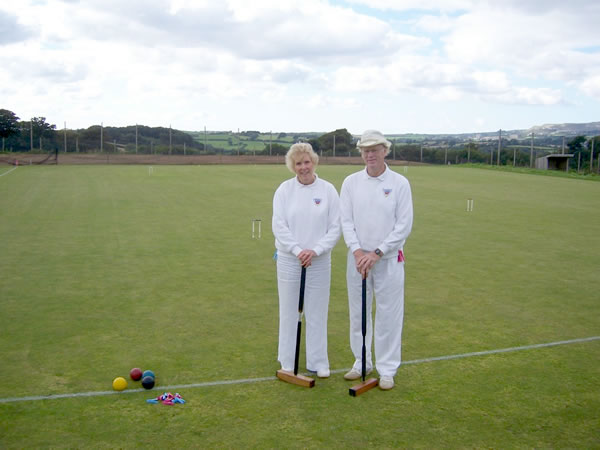 Elizabeth Schofield (winner) and David Edwards (runner up)
Golf Croquet Handicap Singles Final