Tue 6 Jul 2010 - SWF B League
(played at Cornwall CC)
Cornwall v Exeter
Tue 6 Jul Cornwall B-League team entertained Exeter at Porthpean on 6th July. Sunny with light breezes made it perfect Croquet weather.
The morning games saw Ron George and Jenny Burrows beating two Exeter ladies 14 to 3 and Des Honey won his game 14 to 4.
Des won his afternoon game convincingly 14 to 3 but Ron lost his by the same margin. Tony Dyson kept up his morning prowess ( 9 - 14 ) by losing again in the afternoon ( 11-14 ) - consistancy!!
Three games having been decided well before the time limit all eyes were turned to the last game to be completed where Jenny was having a nail-biting final half hour before the bell. With 13 points to her credit, it might be said that Jenny was saved by the bell as her opponent appeared to be threatening a last minute dash to the peg.
The bell signified a win 13 to 10 for Jenny and also a win 4 games to 3 games for the Cornwall team.
Final Score: Cornwall 4 Exeter 3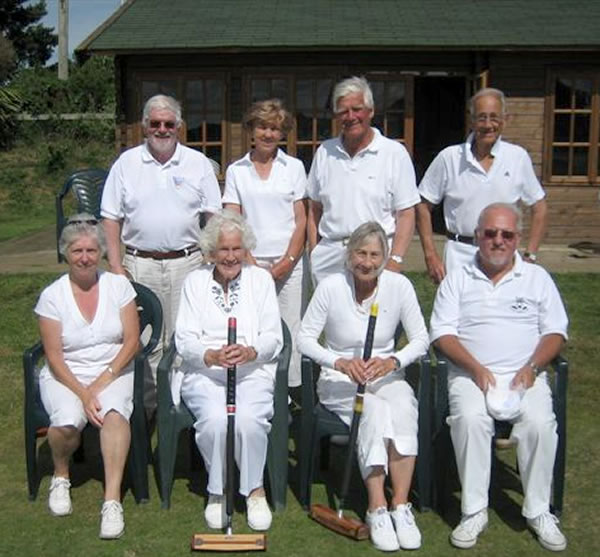 Photo shows Cornwall team standing Des Honey, Jenny Burrows, Ron George and Tony Dyson