Tue 29 Jun 2010 - SWF Golf CroquetLeague
(played at Budleigh Salterton CC)
Budleigh Salterton v Cornwall
On Tuesday June 29th Cornwall's Golf Croquet Team of 8 players travelled to Budleigh Salterton to their 5th match in the SWF Golf Croquet League.
It was the first overcast & damp day for some weeks which slowed the pace of Budleigh's very fast courts a little.
In the morning four doubles & eight singles games were played, by lunch Cornwall were 9 games to 1 ahead with 2 games drawn.
In the afternoon Budleigh hoped to make a comeback, but only managed to win 3 more games & draw 1, giving Cornwall the match with 13 wins to Budleigh's 4 with 3 games drawn.
Final Score: Budleigh Salterton 4 Cornwall 13 (3 games drawn)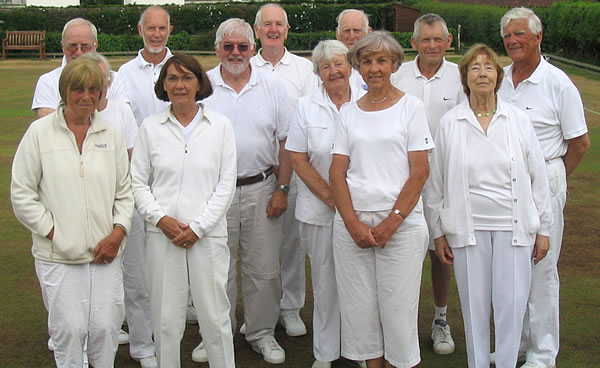 The Teams
Photo by Stephen Read.