Thu 06 May 2010 - SWF Golf Croquet League
(played at Barnstaple CC)
Barnstaple v Cornwall
On Thursday May 6th six members of the Cornwall golf croquet team played away at Barnstaple in the Southwest Federation Golf Croquet League.
Cornwall fielded 6 players against Barnstaple's 8 players. Play commenced at 10am in light rain which became heavier as the morning progressed.
By lunch time the honours were even at 6 games all.
After lunch with everything to play for, 4 more singles were played which Cornwall won. This was followed by 4 games of doubles which Cornwall won 1, drew 1 & lost 2, giving Cornwall the match by 11 games to Barnstaple's 8 games with 1 game drawn.
The day ended in sunshine & we all enjoyed a fabulous tea laid on by our hosts Barnstaple.
Final Score: Barnstaple 8 Cornwall 11 (1 game drawn)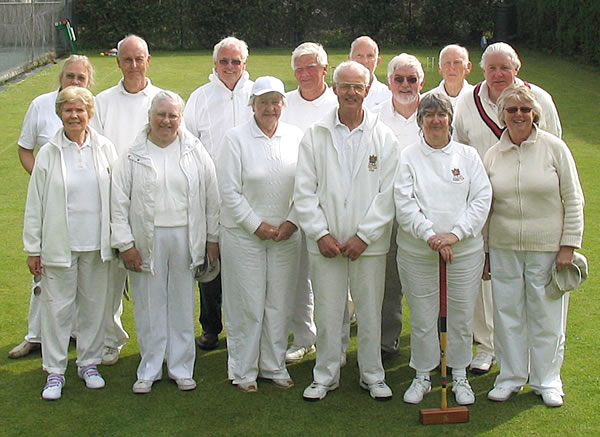 The Teams
Front row, Jennifer Mckendrick(B), Ruby Featherstone(B), Pam George(C), David White(B), Ann White(B), Liz Honey(C).
Back row, Irene Fane(B), Sid Jones(B), Michael Fane(B), Ron George(C), Peter Dexter(C), Des Honey(C), Stephen Read(C),
Gordon Cumming(B).
Photo by Margaret Read.