Tue 04 May 2010 - SWF Federation League
(played at Cornwall CC)
Cornwall v Budleigh Salterton
On Tuesday May 4th Cornwall played Budleigh Salterton at home in the Southwest Federation Association Croquet Federation League( for players with a lower handicap).
In fine weather but a cool light breeze play started at 10am with 2 singles & a doubles game being played, unfortunately Cornwall lost the doubles & one of the singles. By lunch time Cornwall were 2 to 1 down.
In the afternoon with 4 singles to play Cornwall had high hopes but only managed to win two of the singles, giving Budleigh the match by 4 games to Cornwall's 3 games.
Final Score: Cornwall 3 Budleigh Salterton 4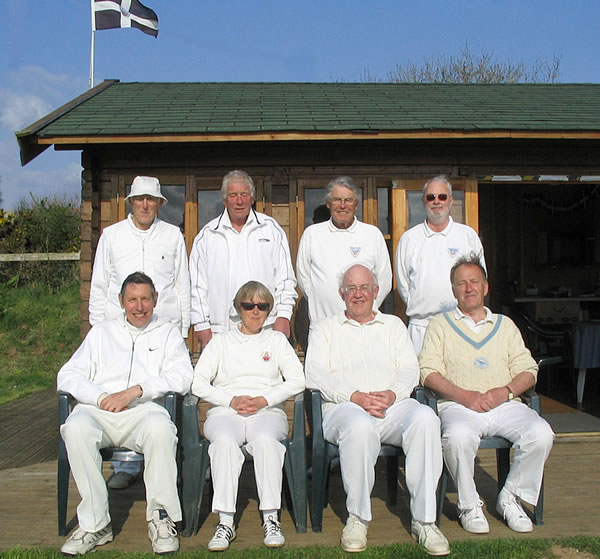 The Teams.
Left to right - Standing: Stephen Read(C), Tony Jennings(C), Tony Backhouse(C), Ian Wilson(C);
Seated: Tim Liles(BS), Elaine Norsworthy(BS), Michael Peters(BS), Patrick Swales(BS).
Photo by Stephen Read.