Thu 29 Apr 2010 - SWF Golf Croquet League
(played at Cornwall CC)
Cornwall Porthpean v Cornwall Rosevear
Cornwall Croquet Club played their first Southwest Federation Golf Croquet League Match of the season on Thursday April 29th.
Their two Golf Croquet teams (Cornwall Rosevear & Cornwall Porthpean) played each other at their home ground at Porthpean.
Play started at 10 o'clock under a leaden sky & drizzle with light rain at times, not quite what we were expecting after the previous sunny days!! The morning's play went very well for the Cornwall Rosevear team by lunch time they had won 9 games to Cornwall Porthpean's 2 games with 1 game drawn.
The weather after lunch did not improve & neither did Porthpean's luck although several games were close fought, Porthpean only managed 2 more wins to Rosevear's 6.
The match was followed by a sumptuous tea laid on by the host team (Cornwall Porthpean) which was very much appreciated by all after playing all day in the wet.
Final Score: Cornwall Porthpean's 4 Cornwall Rosevear 15 (1 draw)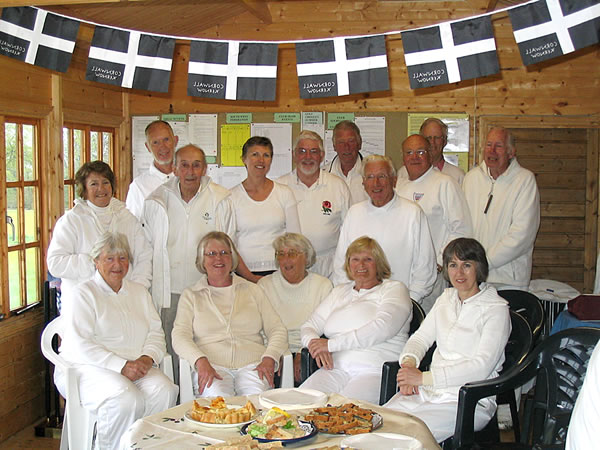 The Teams
Seated. L to R. Pam George(C), Liz Honey(C), Berle Moore(P), Maggie Dawson(P), Kathleen Moorshead(P).
Standing. L to R Lynda Everet(P), Peter Dexter(C), Leslie Stewart(C), Kathryn Smith(P), Des Honey(C), Tony Jennings(P),
Russell Moore(P), Trevor Bainbridge(P), David Edwards(C), Paul Schofield(C).
Photo by Stephen Read.