Sat 03 Oct 2009 - SWF Golf Croquet League Final
(Played at Bristol CC)
Broadwas (Worcester) v Cornwall
Cornwall Golf Croquet Team travelled to the Bristol Croquet Club on Saturday October 3rd to play Broadwas (Worcester) in the Final of the Southwest Federation Golf Croquet League.
On a cold day with strong gusty winds and frequent showers and all too brief glimpses of sunshine the Cornwall team met a very strong team from Broadwas to play the Final
The match consisted of 4 games of doubles and 16 games of singles. The doubles were even each team winning 2 games. Of the singles, 3 games were drawn, some others were closely contested but Broadwas had the upper hand and at the close of the match were the clear and worthy winners (13.5 - 6.5).
Kevin Ham of Dyffryn Croquet Club was the match referee and also presented the Trophy on behalf of the Southwest Federation of Croquet Clubs.
We would like to thank Bristol Croquet Club for their generous hospitality and Kevin Ham for his efficient work as referee.
Final Score: Broadwas (Worcester) 13.5 Cornwall 6.5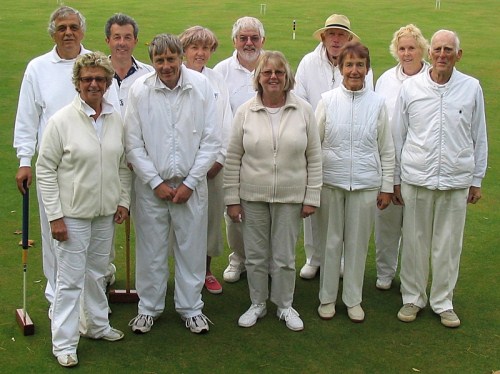 Broadwas (Worcester) & Cornwall Teams.
Left to right: John Guy(B), Josie Watson(B), Stewart Smith(B), David Parson(B), Jenny Burrows(C), Des Honey(C),
Liz Honey(C), Paul Schofield(C), Margaret Read(C), Elizabeth Schofield(C), Stephen Read(C).