Sun 27 Sep 2009 - SWF Federation League Final
(Played at Bath CC)
Kington Langley v Cornwall
CORNWALL CROQUET CLUB WINS 4:1 IN SOUTH WEST REGION FEDERATION FINAL
Congratulations to Cornwall Croquet Club for this fine win, in a large region covering the whole of the South West, all the way from Dorset through Wiltshire, Gloucestershire, Avon and into South Wales, with a total membership of almost 40 clubs, of which 17 contested this event.
This win qualifies the club to compete in 2010 for The Secretary's Shield, a national competition between the winners from the nine constituent regions of the Croquet Association.
Cornwall's team met Kington Langley in the final on Sunday 27th September, on neutral lawns at Bath Croquet Club. Kington Langley looked favourites, having won the event last year as well as twice before.
With teams consisting of three players, the match format was one doubles and one singles played before lunch, followed by three singles.
Cornwall's players were Richard Griffiths, Captain (handicap 0), Tony Backhouse (7) and Peter Cutting (16, but obliged to play as 15 in this event).
Tony played the morning singles leaving Richard and Peter to play the doubles. Against opponents Brian Shorney (3) and Eric Bevan (10), Richard and Peter received one free extra turn in the handicap scheme, not enough for Peter to undertake their much rehearsed opening gambit to get him round, so the game tactics had to be different to those planned. An opportunity to get under way from the one extra turn did arise, but failed to progress, but then opponents adopted a surprising line of play, with Brian (the better player according to his handicap) taking all the opportunities for scoring hoops without setting things up for his higher handicap partner.
As a result Richard and Peter took the game at 26:11, with Eric having made no points.
Meanwhile Tony Backhouse was having a to-and-fro match against Jane Hull (10), a very capable player, and a tough opponent when given three extra turns in a handicap game. Nonetheless, Tony secured a good win at 26:17 to put Cornwall at 2 games to nil before lunch, and needing only one singles win from the afternoon's play.
In the afternoon, Richard was giving three extra turns to Brian, and so expected a loss if opponent took an early opportunity to use them, which Brian did, winning 26:1. This left Richard to watch the other games hoping for a dominant position to emerge for one of his team mates. However, both games were very interactive, Peter not getting the lead he should with his five extra turns, and Tony finding that Eric, now with three extra turns, was making up for his lack of score in the doubles. With Eric leading against Tony, and Jane steadily eroding Peter's lead, Richard began to look anxious.
However, all was well when Peter, with one ball already through all its hoops, took a well-judged shot at Jane's leave, and kept his head to take the last few hoops and win the game at 26:16, securing the match. Tony followed shortly, repeating his morning score of 26:17 to make it a solid 4:1 win overall.
The trophy is The Federation Shield, first awarded in 1985, and presented by The Cheltenham & Gloucester Building Society.
Final Score: Kington Langley 1 Cornwall 4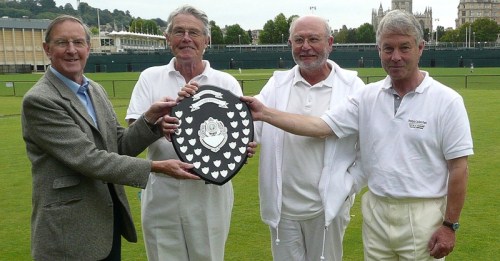 Bob Whitake (President of Bath Croquet Club) presenting the SWF Federation Shield to Cornwall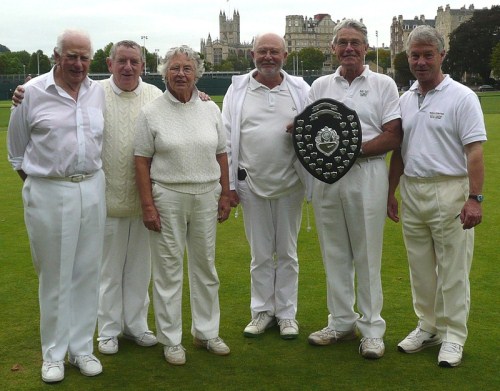 The Federation Shield Teams in the Final of SWF Federation League. Kington Langley v Cornwall.
Left to right:- Eric Bevan(KL), Brian Shorney(KL), Jane Hull(KL), Richard Griffiths(C), Tony Backhouse(C), Peter Cutting(C).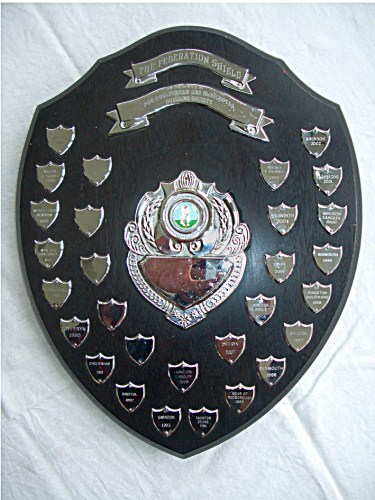 The Federation Shield
Match report by Richard Griffiths.