Sun 20 Sep 2009 - SWF Golf League Semi-Final
(Played at Nailsea CC)
Nailsea (SE) v Cornwall Rosevear
The Cornwall Golf Croquet Team played away at Nailsea in the semi-final of the SWF Golf Croquet League in perfect weather conditions on Nailsea's very fast courts.
The match commenced with 4 games of doubles of which Cornwall won 2, lost one and drew one.
By lunchtime Cornwall were in the lead winning 3 games to Nailsea's 2, and 2 games drawn.
In the afternoon session of 13 games the honours were even with Cornwall and Nailsea winning 5 games each with 3 games drawn.
In a closely fought match Cornwall emerged victorious winning 8 games to Nailsea's 7 with 5 games drawn.
The points for the Tournament were Cornwall 10 1/2 to Nailsea's 9 1/2.
Cornwall, winners of the SWF Southwest & Southeast Divisions, now go through to the Final to be played at Bristol Croquet Club against Broadwas(Worcester), who were winners of the SWF North & Central Divisions.
Final Score: Nailsea (SE) 9.5 Cornwall Rosevear 10.5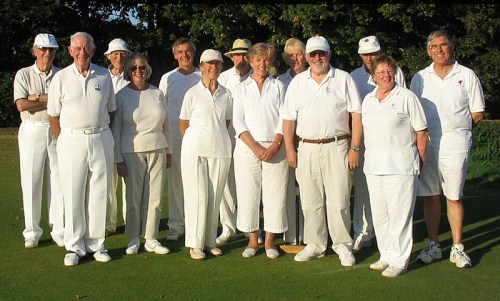 The Cornwall & Nailsea(SE) teams:-
From left to right David Murphy(N), Andrew Buchanan(N), Stephen Read(C), Liz Honey(C), David Hunt(N), Margaret Read(C),
Paul Schofield(C), Jenny Burrows(C), Elizabeth Schofield(C), Des Honey(C), Ron Harridge(N), Mary Barnes(N), Peter Dyke(N).