Sat-Sun 5-6 Sep 2009 - Golf Croquet Club Handicap Singles Tournament
The Cornwall Croquet Club's annual Singles Handicap Golf Croquet Tournament took place at Porthpean over the weekend of Saturday & Sunday September 5th & 6th.
Sixteen members took to the lawns in two blocks of eight; each player having to play seven games to the best of thirteen hoops. Competition was fierce, with over half the fifty-six matches ending with opponents within two points of each other. Competitors were a mixture of new and not-so-new members; the handicapping system giving the former a reasonable chance against the latter.
However, at the end of the block programme Stephen Read headed the one block, with Marjorie Stewart just one point behind, while Elizabeth Schofield won the second block by just half a point from Tony Jennings.
The final was close throughout. The third hoop took nearly twenty minutes to run, with some brilliant defensive play by both players before Elizabeth ran it with a long shot, after Stephen had just failed to block the hoop. Elizabeth managed to keep just ahead for most of the time, but they completed hoop 10 at five hoops each. As they approached hoop 11 time was called, but Elizabeth managed to run it with the second of her four turns allowed after the bell. Stephen was equal to this as he ran hoop 12 with the last of his extension turns. The golden hoop beckoned, with Elizabeth having the first approach shot. A well-placed shot put her ball three yards above the hoop; but she had a handicap turn in hand, which she used to get closer to the hoop. Stephen had a long shot to move her ball but missed narrowly, allowing Elizabeth to win the hoop.
So! An exciting game came to end and Elizabeth was presented with the trophy by Joyce Wilson and Lynda Everett.
The event was organised, managed and refereed by Ron George.
Winner: Elizabeth Schofield Runner up: Stepehen Read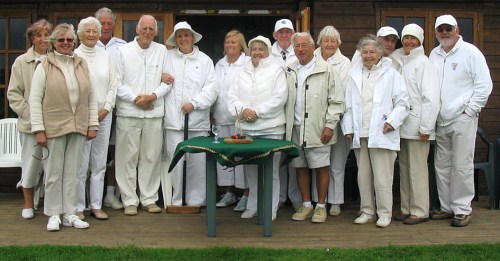 The competitors for the Golf Croquet Handicap Singles Tournament.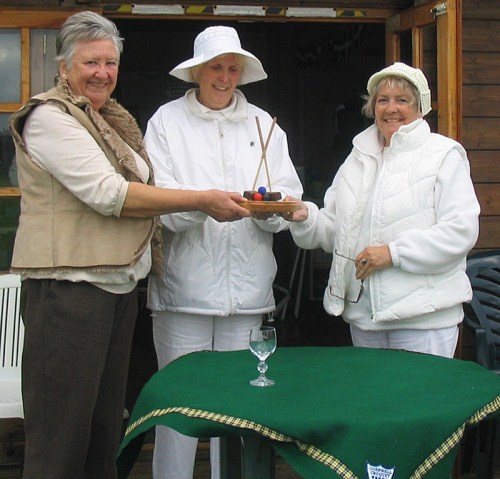 Elizabeth Schofield being presented with the Trophy.