Sat-Sun 22-23 Aug 2009 - The Daphne Jenning Memorial Short Croquet Cup
Des Honey does it again !
15 members of the Cornwall Croquet Club competed for the Jennings Trophy on a rather damp Saturday & Sunday.
The format of the tournament was to play 14 point games on half size lawns time limited to 1hr 15 mins.
The players were arranged in 2 blocks. The players in each block all played each other, the winner of each block then played in the final.
The competition was very tight the block winners not emerging until the final 2 rounds.
Malcolm Hooper & Des Honey winning the blocks to play in the final.
In the final Malcolm went in first placing his 2 balls on the east boundary, Des having placed his first ball near hoop 2 sent his 2nd ball to the east boundary near Malcolm's 2 balls took one of his bisques (extra turns in handicap play) & proceeded to take his ball round to the peg. Malcolm, not managing to get in, allowed Des to take his 2nd ball round to the peg & peg out, winning 14 to 0.
Des Honey played a classic game demonstrating how a higher handicap player can take on one with a much lower handicap & by using his bisques (extra turns) carefully to win
PS Des Honey also won the Read Trophy with another classic display (Aug 9th).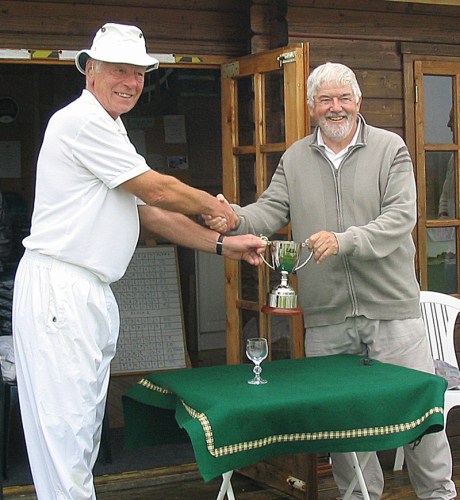 Winner Des Honey receiving the Trophy from Tony Jennings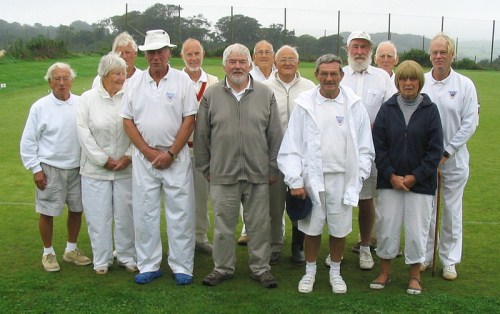 Left to right:- Russell Moore, Pam George, Ron George, Tony Jennings, Peter Dexter,

Des Honey (winner)

, Tony Dyson,
Colin Hadley, John Dowding, Malcolm Hooper, Stephen Read, Barry Edwards, David Edwards.
Not in the photo:- Margaret Read, Rosemary Bradshaw.
Photos by Stephen Read