Sat-Sun 8-9 Aug 2009 - The Read Trophy for AC High Bisquers
Seven Members of the Cornwall Croquet Club competed for The Read Trophy.
This Tournament is for players with higher Association Croquet handicaps (20 to 24).
The Tournament was played in near perfect weather conditions except for a shower on Sunday, each player playing 3 games each day. The games were played in the short lawn format, i.e. halfsize lawns and 14 point games time limited to 1hr 30mins.
The overall winner did not emerge until the last game when Des Honey played Jenny Burrows (last years winner).
Des playing near exhibition quality croquet got both his balls round to peg-out well within time winning the game 14 points to Jenny's 1 point.
Results: -
1st - Des Honey winning the Trophy won 6 games.
2nd - Jenny Burrows won 4 games lost 2.
3rd - Margaret Read won 4 games lost 2.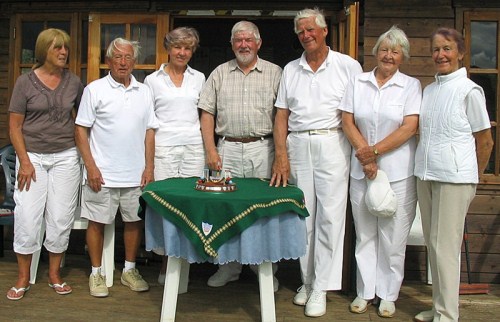 Competitors for The Read Trophy.
Left to right: Barry Edwards, Russell Moore, Jenny Burrows, Des Honey (winner), Ron George, Pam George, Margaret Read.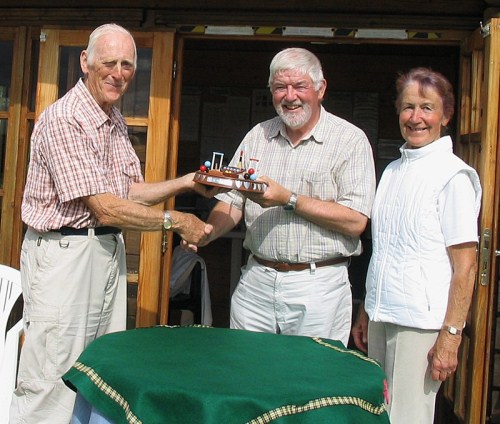 Des Honey receiving the Trophy from Margaret & Stephen Read.
Photos by Stephen Read.