Sat-Sun 11-12 Jul 2009 - Golf Croquet Club Handicap Doubles Tournament
Saturday's drizzle, which later turned to persistent rain, could not dampen the spirits of the eight pairs of players competing for the Golf-Croquet Doubles Cup at the Porthpean lawns of the Cornwall Croquet Club. The teams were well matched, with none making the running. At the end of the day, three teams shared the lead with a further two only half a point behind. Each team played each other, in a best-of-nineteen-hoops game, with a time limit of an hour and a half: making seven games per pair to be played over two days. Sunday's weather was a big improvement on the previous day; there being mainly broken sunshine with a couple of light showers - certainly nothing to trouble the competitors. There were some unexpected results, during the day, and the final winners did not emerge until the final ball of the last game in progress. Des and Liz Honey needed a win to emerge as outright winners, but when time was called they were one hoop down with just two shots per ball to come. With the very last ball Liz ran the eighteenth hoop to tie the game. The only team that could beat them won its last game and tied with the Honeys at 5 1/2 points each. In the event of a tie, the team that won the game between them is adjudged to have won the tournament. Unfortunately for the Honeys, they lost their match with Elizabeth Schofield and Tony Jennings, who were presented with the cup by Ron George, the club chairman, who was also manager and referee for the tournament.
Winners: Elizabeth Schofield and Tony Jennings.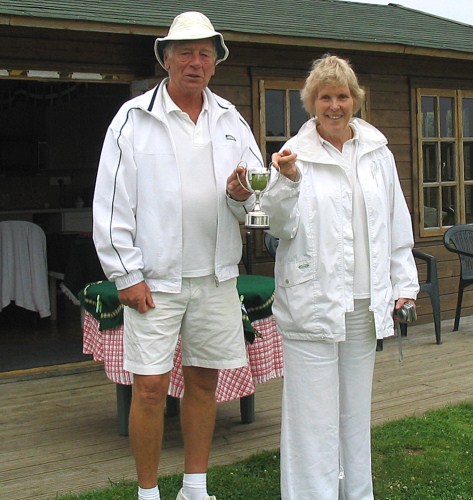 Elizabeth Schofield & Tony Jennings winners of the Golf Croquet Doubles Tournament.
Photo by Stephen Read.