Fri 03 Jul 2009 - SWF B League
(Played at Exeter CC)
Exeter v Cornwall
Cornwall Croquet Club sent a team of three to Exeter to play an Association Croquet 'B' League match at their Pinces Park venue (There is no r omitted:-). The lawns were not too fast, in spite of the dryness of the ground, but care had to be taken to keep the balls on the three-quarter-sized courts.
The morning games, of one doubles and one singles, were both won by Jenny Burrows with partner Ron George, and Des Honey for Cornwall; with scores of 23 - 12 and 26 - 12 respectively.
However, after lunch the three singles matches became close-run, with the lead changing from side to side in each match. Two of games went to full time, with one win to each side. The third game also went to full time but the scores were tied. leading to a prolonged struggle for a deciding hoop. Cornwall eventually won the game by 11 - 10, and the match by 4 games to 1.
Final Score: Exeter 1 Cornwall 4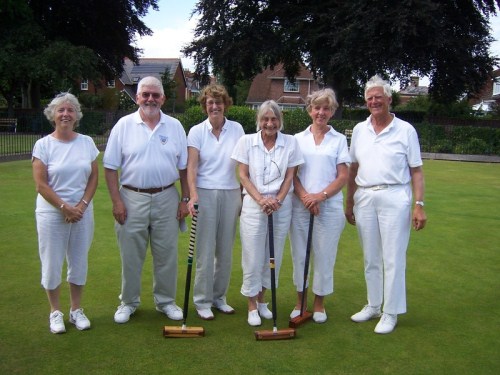 Left to right:- Sandra Paterson(Ex), Des Honey(C), Jane Cook(Ex), Scylla Blackwell(Ex), Jenny Burrows(C), Ron George(C)