Tue 30 Jun 2009 - SWF Golf Croquet League
(Played at Sidmouth CC)
Sidmouth v Cornwall Rosevear
Tuesday June 30th saw Cornwall Croquet Club visit Sidmouth for Cornwall's 5th match of the South West Federation Golf Croquet league. With Cornwall having won all their previous matches and Sidmouth also having done so,this wasa crucial encounter. With several of their regular players unavailable for various reasons, Cornwall's team was a rather depleted five in number, meaning not much time for resting! A tough match was expected.
The weather was certainly flaming June, with a light sea breeze taking the edge off the heat. Sidmouth's short-cut and dry lawns were very fast, requiring a delicate touch to position a ball accurately.
The morning's play started with two doubles, and Cornwall's husband & wife teams of Ron & Pam George, and David & Barry Edwards, got off to a good start with 7-5 wins. Sidmouth caught up in the following singles, and all depended on whether Cornwall's Jenny Burrows won the last match on the lawn before lunch to decide whether it would be five-all at the break or 6-4 to Cornwall. Jenny won, giving an encouraging lead to the visitors.
After lunch, a further block of singles preceded the final two doubles games. Whatever was in their lunch packs must have been powerful, for Cornwall went on the rampage in the afternoon, losing only two of the ten games played, one singles and one doubles.
Two Cornwall players, David & Barry Edwards, saw their handicaps reduced as a result of wins in their singles games.
Final Score: Sidmouth 6 Cornwall Rosevear 14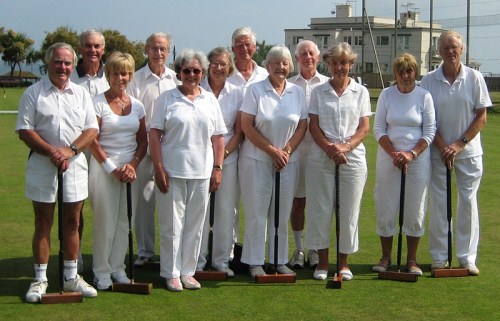 Cornwall & Sidmouth Teams.
Left to right:- John Coombes(S), Keith Thurley(S), Pam Bowra(S), Tony Philbot(S), Margaret Piler(S), Muriel Philbot(S),
Ron George(CR), Pam George(CR), Graeme Pryor(S), Jenny Burrows(CR), Barry Edwards(CR), David Edwards(CR).