Tue 16 Jun 2009 - SWF Golf Croquet League
(Played at Cornwall CC)
Cornwall Rosevear v Budleigh Salterton
Cornwall Rosevear hosted Budleigh Salterton Croquet Club in the fourth round of the Southwest Federation Golf Croquet League on Tuesday June 16th.
In fine sunny weather, the mornings play went very much Cornwall's way & by lunch time Cornwall were 9 games to 2 in the lead with 1 game drawn.
The afternoon's play continued in Cornwall's favour with them adding 6 more wins to Budleigh Salterton's 1 with 1 further game drawn.
Cornwall had a decisive win. The final score Cornwall Rosevear 15 games, Budleigh Salterton 3 games & 2 games drawn.
Cornwall Rosevear have won 4 out of 5 of the Golf League matches, the 5th match will be away against Sidmouth on June 30th.
Final Score: Cornwall Rosevear 15 Budleigh Salterton 3 2 games drawn.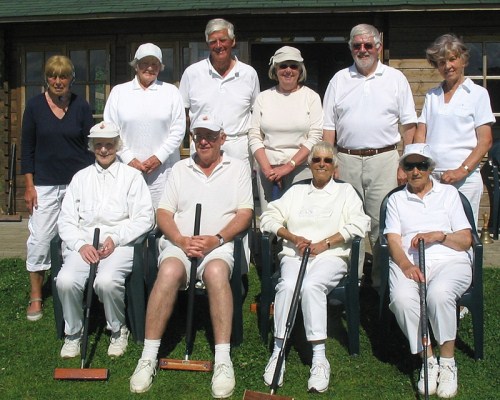 Seated: Budleigh Salterton - Pat Meredith, Michael Peters, Kay Scales, Audrey Handley,
Standing: Cornwall - Barry Edwards, Pam George, Ron George, Liz Honey, Des Honey, Jenny Burrows.