Sun 14 Jun 2009 - SWF Federation League
(Played at Cornwall CC)
Cornwall v Plymouth
On Sunday June 14th Cornwall hosted Plymouth Croquet Club in the fifth round of the Association Croquet Federation League.
In the mornings play Tony Backhouse & Stephen Read beat Eddie Schaffert & Brian Stevens 24--17 on time in the doubles.
Malcolm Hooper beat Bob Savage 26--12.
Paul Schofield lost to Allen Schaffert 15--26.
At lunch time Cornwall were 2 games to 1 up. In the afternoon 3 singles were played.
Tony Backhouse lost to Bob Savage 16--26.
Stephen Read beat Brian Stevens 23--21 on time.
Paul Schofield beat Eddie Schaffert 21--14 on time.
Cornwall have now won 4 out of 5 of their South West Federation 'Association Croquet Federation League' matches.
Final Score: Cornwall 4 Plymouth 2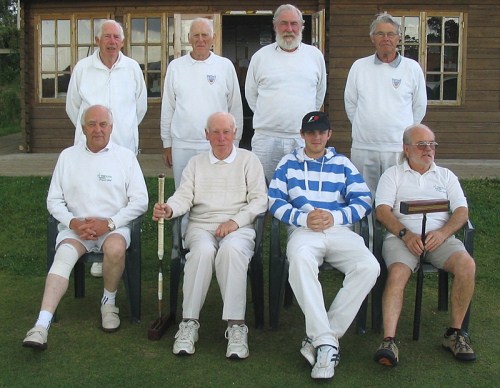 Seated: Plymouth team - Bob Savage, Eddie Schaffert, Allen Schaffert, Brain Stevens.
Standing: Cornwall team - Paul Schofield, Stephen Read, Malcolm Hooper, Tony Backhouse.