Fri 12 Jun 2009 - SWF Intermediate League
(Played at Exeter CC)
Exeter v Cornwall
On Friday June 12th Cornwall travelled to Exeter to play their third match in the SWF Intermediate League.
In cool and rather damp conditions the mornings play did not go too well for Cornwall, the four singles went 3 - 1 to Exeter.
Although the weather improved a little in the afternoon Cornwall's play didn't & Exeter won the doubles & two further singles.
Everyone agreed we had an enjoyable day's hard fought croquet although the result was a bit disappointing for Cornwall.
Final Score: Exeter 6 Cornwall 1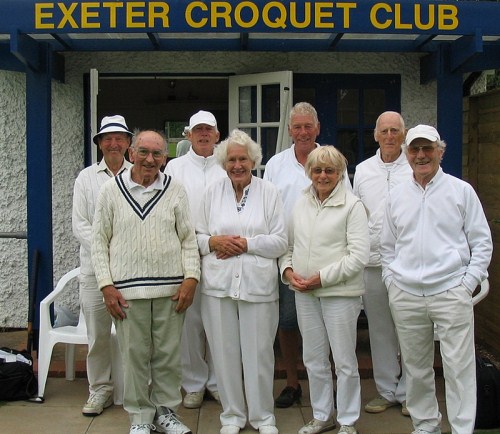 The Exeter and Cornwall teams,
Left-right: Roger Thorne(Ex), Don Sheppard(Ex), Paul Schofield(C), Ruth Urch(Ex),
Tony Jennings(C), Rosemary Bradshaw(C), Stephen Read(C), Richard Hitchens(Ex).