Tue 26 May 2009 - SWF Golf Croquet Leaguee
(Played at Cornwall CC)
Cornwall Porthpean v Sidmouth
The Cornwall Porthpean team hosted Sidmouth to a SWF Golf Croquet League match at Porthpean on Tues. May 26th.
Both clubs were only able to play 5 members each, for the 20 game match.
The gale force, biting cold wind did nothing to help the players but by lunch time, after 12 games, the clubs were equal with 6 games each.
The Porthpean team showed their metal during the morning, playing against some much more experienced Sidmouth players and Kathryn Smith excelled herself by winning all her games.
After lunch 4 more singles games were played, followed by 4 doubles games.
The tide had turned against Porthpean who lost all of the afternoon games, however, some of the games went to time plus extra turns and one game only progressed to the 5th hoop because of the fight put up by the Porthpean members; so despite the score, once again, the Porthpean squad more than held their own and made Sidmouth fight for every point scored.
Ron George officiated as referee.
Berle Moore was in charge of refreshments and Sidmouth returned home victorious and replete after a traditional Cornish cream tea. Porthpean were left determined to up their game for their next match, away to Budleigh Salterton. on July 16th.
Left to right:- Kathy Smith(CP), Ann Reese(S), John Hindley(CP), Russel Moore(CP), Keith Thorley(S), Pam Bowra(S), Margaret Piper(S), Francis Hindley(CP), Dorrianne Forsdick(CP), John Coombes(S).
Final Score: Cornwall Porthpean 6 Sidmouth 14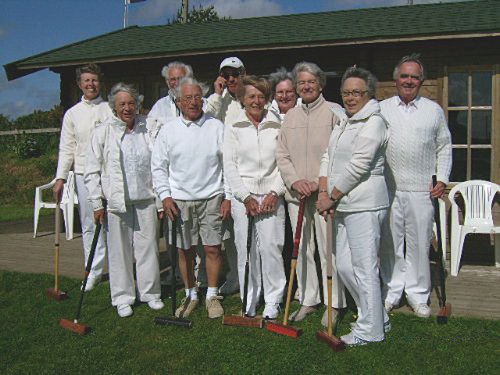 The Cornwall and Sidmouth teams.