Tue 26 May 2009 - SWF Federation League
(Played at Budleigh Salterton CC)
Budleigh Salterton v Cornwall
Cornwall's Federation League team played away at Budleigh Salterton on Tuesday May 26th.
The match was played in sunny but somewhat breezy conditions. The games were timed for 3 hours each.
Malcolm Hooper & Stephen beat Bob Donald & John Todd-White +6T
Nigel Grant lost to Michael Peters -9T
Tony Jennings beat Brian Pollock +4
Nigel Grant beat John Todd-White +4T
Malcolm Hooper beat Michael Peters +12
Tony Jennings lost to Bob Donald -4T
Stephen Read beat Brain Pollock +3T
Final Score: Budleigh Salterton 2 Cornwall 5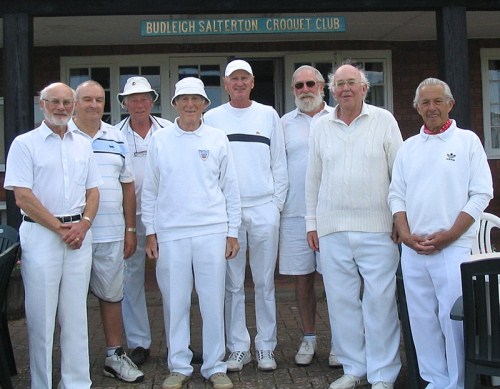 Budleigh and Cornwall teams.
Left to right:- Bob Donald(BS), Nigel Grant(C), Tony Jennings(C), Stephen Read(C), Brian Pollock(BS),
Malcolm Hooper(C), Michael Peters(BS), John Todd-White(BS).