Thu 21 May 2009 - SWF Golf Croquet League
(Played at Barnstaple CC)
Barnstaple v Cornwall Porthpean
An intrepid band of novice, competition members from the Cornwall Croquet Club ventured to Barnstaple on Thursday May 21st to play their first away match.
Blessed with ideal playing weather, the team, Cornwall Porthpean, consisted of Tony Jennings, Lynda Everett, Howard Rosevear, Kathryn Smith, Kathleen Morehouse and Pat Hack.
After a nervous start, losing most of their first games, the team settled down and played some hard fought games against a much more experienced Barnstaple team. Some games going to a deciding Golden Hoop point.
The match ended in a draw, Barnstaple 9 games, Cornwall(Porthpean) 9 games with 2 games drawn, Cornwall(Porthpean) were then hosted to a delicious afternoon tea before wending their way back to Cornwall.
Cornwall Porthpean and Barnstaple both collect 10 points for this drawn match.
Final Score: Barnstaple 9 Cornwall Porthpean 9 draws 2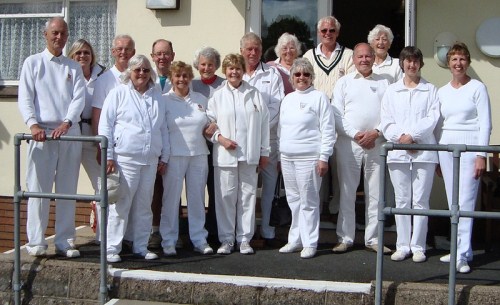 The Barnstaple and Cornwall Teams
Photo by Joyce Wilson.