Sun 17 May 2009 - SWF Golf Croquet League
(Played at Nailsea CC)
Nailsea v Cornwall
Cornwall's Rosevear Golf croquet team played away at Nailsea in the third round of the Southwest Federation Golf Croquet League on Sunday May 17th.
On a rather dull & chill morning Cornwall lead from the start, by lunch Cornwall's score was 6 games to Nailsea's 4.
In the afternoon play continued in brief but heavy showers, Cornwall forged ahead to win the match 13 games to Nailsea's 6 games with 1 game drawn.
Final Score: Nailsea 6 Cornwall 13 1 game drawn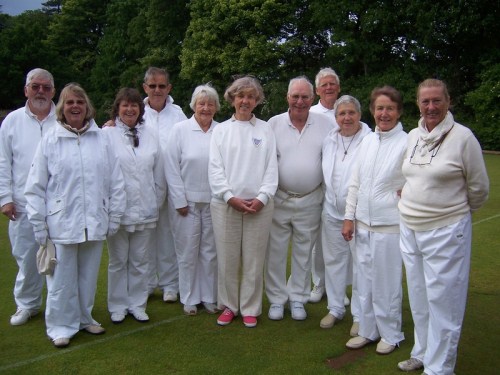 Cornwall & Nailsea Team Photo.
Left to right:- Des Honey(C), Liz Honey(C), Valerie Jackson(N), Chris Jackson(N), Pam George(C), Jenny Burrows(C),
Carl Jones(N), Ron George(C), Margaret Robinson(N), Margaret Read(C), Ann Peek(N).