Fri 15 May 2009 - SWF Federation League
(Played at Exeter CC)
Exeter v Cornwall
Cornwall Croquet Club played Exeter away in the second round of the Southwest Federation Association Croquet League on Friday May 15th. Play started in rather damp and breezy conditions.
By lunch time having won the doubles & one of the singles, Cornwall were 2 games to 1 up.
In the afternoon Cornwall won two more singles, to come out overall winners, Cornwall 4 games to Exeter's 3 games.
Final Score: Exeter 3 Cornwall 4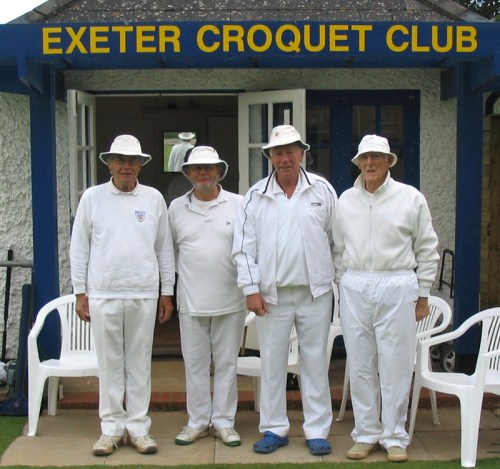 The Cornwall team - left to right:- Tony Backhouse, Richard Griffiths, Tony Jennings, Stephen Read.
Photo by Stephen Read.