Sun 10 May 2009 - SWF Federation league
(Played at Nailsea CC)
Nailsea v Cornwall
Cornwall Croquet Club's South West Federation League team began the 2009 season with a disappointing defeat at Nailsea on Sunday.
Cornwall's doubles pairing of Ian Wilson and Nigel Grant were not at their best in going down 17-9 in their morning match but the other two members of the team gained victories - Tony Jennings by 26-19 and Malcolm Hooper 23-18.
Cause for optimism, then - but the afternoon series of matches proved a disappointment, Cornwall losing all four.
The team's next match is at Exeter and other members of the Federation League squad will be included in the match team.
Final Score: Nalisea 5 Cornwall 2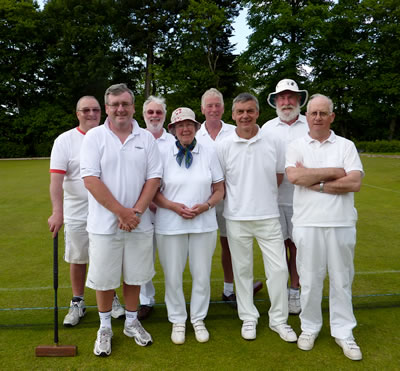 Nailsea (front) & Cornwall (rear) Teams