Thu 30 Apr 2009 - SWF Golf Croquet League
Cornwall Rosevear (CR) v Cornwall Porthpean (CP)
This year Cornwall Croquet Club is able to field two teams (Cornwall Rosevear & Cornwall Porthpean) in the Southwest Federation Golf Croquet League.
In the opening round, on Thursday April 30th, the League rules say they have to play each other.
Play started on time in spite of the rather damp weather.
By lunch time the score was Cornwall Rosevear 11 games, Cornwall Porthpean 1.
The afternoon session was played in bright sunshine, and the games closely contested.
Final score: Cornwall Rosevear 15 Cornwall Porthpean 4 1 game drawn.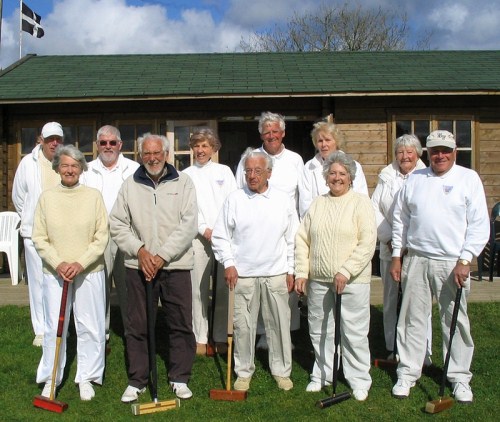 Cornwall Rosevear and Cornwall Porthpean teams.
Front row:- Francis Hindley(CP), John Hindley(CP), Russell Moore(CP), Lyn Everett(CP), Trevor Bainbridge(CP),
Back row:- Paul Schofield(CR), Des Honey(CR), Jenny Burrows(CR), Ron George(CR), Elizabeth Schofield(CR), Pam George(CR).