Tue 28 Apr 2009 - SWF Intermediate league
(Played at Cornwall CC)
Cornwall v Budleigh Salterton
Cornwall Croquet Club's first inter-club Southwest Federation Intermediate League match for 2009 was played on Tuesday April 28th. A home Intermediate League match (for players of mid range handicaps, 18 to 10) against Budleigh Salterton.
Torrential rain had put the fixture in some doubt when the courts were seen to be flooded on the 27th, but they dried out to give a good, but slightly slow, surface.
The match was refereed by Tony Backhouse.
Budleigh's team of four arrived a little late having accidentally explored Mevagissey!
Proceedings were not much held up, and the morning's play started with doubles between Paul Schofield & Colin Hadley of Cornwall, both handicap 14, versus Malcolm Beaver, Budleigh's captain (14) and Pat Meredith (18). This was a fairly slow and low scoring game, going Budleigh's way 13-8. At the same time Cornwall's Malcolm Hooper (10) was playing Ivor Meredith (12), emerging with a comfortable win at 24-6. Stephen Read (14) played Jack Thompson (12) and also won fairly comfortably 24-15.
Heavy showers in the morning sent players running for their waterproofs and at one stage, hail was bouncing off the lawns & the players. A welcome lunch break allowed the weather to improve considerably in the afternoon.
In the afternoon singles, Malcolm Hooper comfortably beat Jack Thompson 26-10, achieving the only peg-out of the day; Colin Hadley beat Ivor Meredith 18-8, and Schofield beat Pat Meredith 24-11, Pat's game steadily improving after a slow start, but too late to catch up. Stephen Read narrowly lost 18-21 to Malcolm Beaver in a tight and well-contested game, which could have gone either way.
A good start to the season.
Final Score: Cornwall 5 Budleigh Salterton 2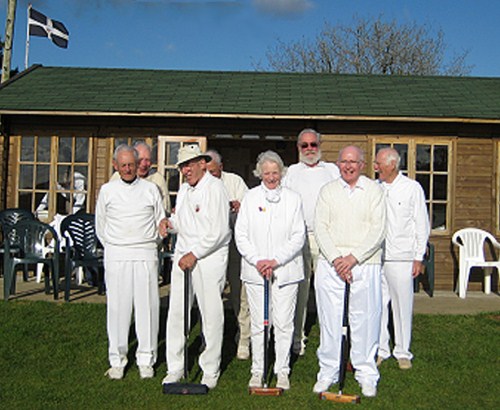 The Budleigh & Cornwall teams.
Front row: Ivor Meredith(B), Jack Thompson(B), Pat Meredith(B), Malcolm Beaver(B),
Back row: Paul Schofield(C), Colin Hadley(C), Malcolm Hooper(C), Stephen Read(C).