END OF SEASON FRIENDLY WITH NAILSEA CROQUET CLUB
Sat & Sun 11 & 12 Oct 2008
Saturday and Sunday October 11th & 12th saw our annual end of season friendly match against Nailsea.
On Saturday 10 games Golf croquet were played. Nailsea fielding a very strong team came out the winners 6 games to 4.
On Sunday under perfect weather (unusual for this year) Cornwall's association croquet team were hoping to redress the balance, but with some inspired play by the Nailsea team Cornwall went down 4 games to 8, so Nailsea are taking the Trophy home.
Final score: Nailsea 14, Cornwall 8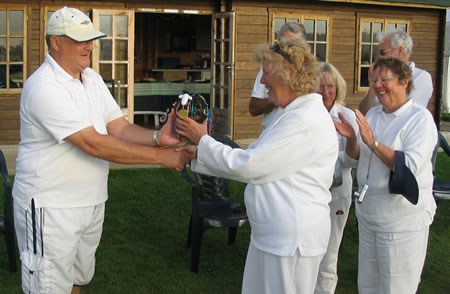 Nailsea receiving the trophy
from the
Cornwall Captain - Nigel Grant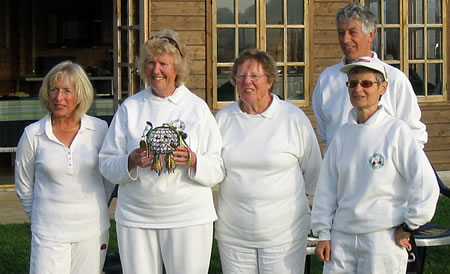 Nailsea association team with The Porthpean Lamb Trophy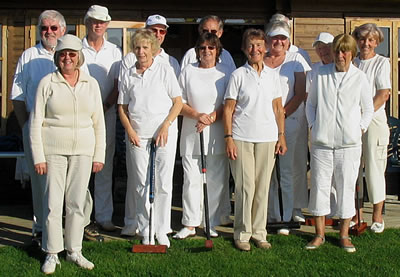 Cornwall & Nailsea
Golf Croquet teams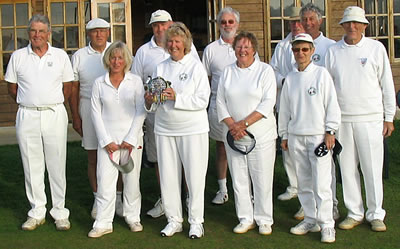 Cornwall & Nailsea
Association Croquet teams
sPhotos by Stephen Read
Full Results (Cornwall names first): -
Golf Croquet
Margaret Read lost to Brenda Roynan 0-2
Barry Edwards lost to Brian Roynon 1-2
Joyce Wilson lost to Valerie Jackson 1-2
David Edwards beat Chris Jackson 2-1
Barry & David Edwards beat Brenda & Brian Roynon 1-0
Liz and Des Honey lost to Valerie and Chris Jackson 0-1
Pam George lost to Chris Jackson 1-2
Des Honey beat Valerie Jackson 2-0
Ron George lost to Brian Roynon 0-2
Jenny Burrows beat Brenda Roynon 2-0
Association Croquet
Colin Hadley & Nigel Grant beat Mary Barnes & Violet Delmas +1T
Tony Backhouse beat Richard Delmas +3T
Paul Schofield lost to Brigit Clayton -9T
Stephen Read lost to Linda Shaw -8T
Paul Schofield & Stephen Read beat Richard Delmas & Brigit Clayton +2T
Colin Hadley lost to Violet Delmas -4T
Tony Backhouse lost to Linda Shaw -18
Ian Wilson lost to Mary Barnes -3T
Tony Backhouse & Nigel Grant lost to Richard Delmas and Linda Shaw -9
Colin Hadley lost to Brigit Clayton -1T
Paul Schofield beat Mary Barnes +17
Ian Wilson lost to Violet Delmas -13