Finals Weekend match reports
Thu-Sun 25-29 Sep 2008
---
THE PRESIDENT'S CUP GOLF CROQUET TOURNAMENT

The newly established President's Cup for Golf Croquet had its preliminary rounds last week. Ten players were arranged in two blocks of five in which each player played four games: each game being the best of thirteen hoops, or a maximum time limit of one hour. Matches were played without any handicap allowances, which should have favoured the low-handicap players. However, competition was such that the group winners did not emerge until the last round of the day.
Finals Weekend got off to a good start on Saturday afternoon when the two winners, Margaret Read and Tony Backhouse, each began their match with well-placed balls at the first hoop. The match continued in this manner, with the two matching hoop for hoop, and Margaret winning the first game by 7 to 6. The second game was similarly competitive and was won by Tony Backhouse by two hoops. The final game was equally absorbing, with scores level at four all, when Tony shot a winning run of three hoops to take the match.
The high standard of play gave a fitting end to what has been a very successful season; in which the club has increased its membership to an extent that warrants fielding a second team in the South West Federation Golf-Croquet League next year.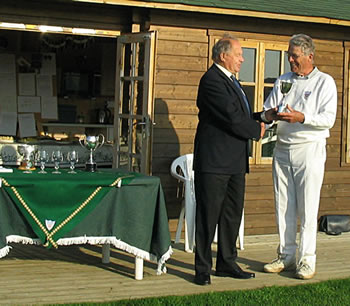 Tony Backhouse receiving The President's Cup for Golf Croquet from Howard Rosevear the club president
---
THE PRESIDENT'S CUP ASSOCIATION CROQUET TOURNAMENT
The semi-finals for The President's Cup association croquet were played on Friday afternoon under 'advanced level play' rules( i.e. no handicap). After hard fought games Tony Backhouse and Nigel Grant emerged as winners to meet in the final on Sunday afternoon.
The final on Sunday proved an epic struggle with the lead changing many times. The spectators watched with bated breath as Nigel just managed to pull ahead and peg out to win by a short head, 26 points to 21.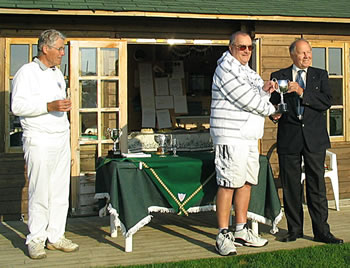 Nigel Grant receiving The President's Cup for Association Croquet from Howard Rosevear the club president
---
THE DOWDING CUP ASSOCIATION CROQUET TOURNAMENT
The final for the Dowding Cup was played on Sunday morning under handicap rules between Colin Hadley and David Edwards.
An on form Colin came out a convincing winner to receive the cup, 26 points to 11.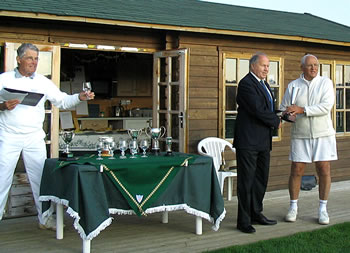 Colin Hadley receiving The Dowding Cup from the club president.
---
Other awards presented on finals day were:-
Platinum Award
-
David Edwards
- for running 12 hoops without bisques (extra turns in handicap play) and winning the match.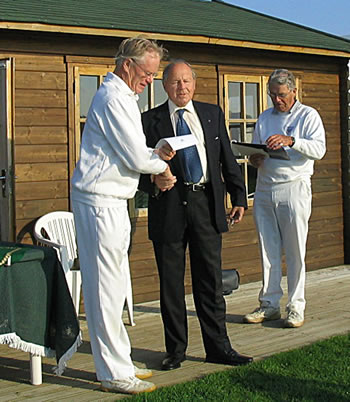 David Edwards receiving the Platinum Award from the club President.
Most merit points for positive play - Stephen Read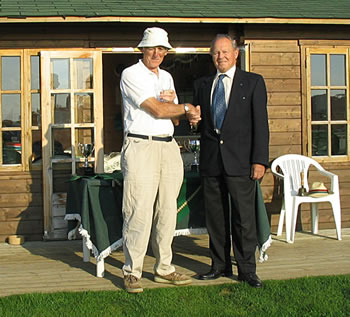 Stephen Read receiving the Award from the club President.
Golf Croquet summer ladder tournament winner - Des Honey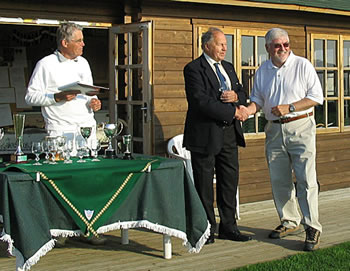 Des Honey receiving the Trophy from the club President
All the photos by Stephen Read.