NEW MEMBERS' DAY - Sun Sep 7 2008
In glorious sunshine, and on lawns that had been flooded only two days before, ten of the season's sixteen new members of Cornwall Croquet Club entered the tournament arranged specifically for them.
Played in two leagues of five, in which everybody played each other, competition was keen to win a place in the final. Several of the players had played only doubles previously, but soon got used to playing with two balls instead of one.
The leagues were eventually won by Ian Williams and Jim Ayling. In the final, Ian got off to a good start, winning the first two hoops, but Jim soon caught up and the lead changed several times in a closely-faught contest. At four all, Jim managed to get the ninth hoop and then put himself into the jaws of the tenth, with a well-aimed shot, as time was called. He eventually came out the winner by six hoops to four.
The traditional club glass was presented by the Chairman, and event manager, Ron George, who congratulated the finalists on an exciting game.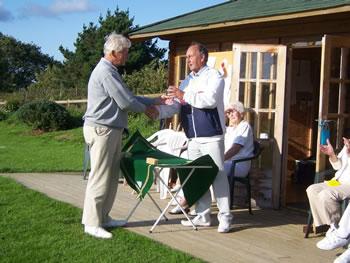 Ron George
presenting wineglass to the Winner
Jim Ayling
The Finalists- Jim Ayling & Ian Williams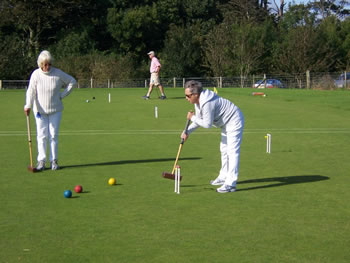 Dorianne Forsdick in action!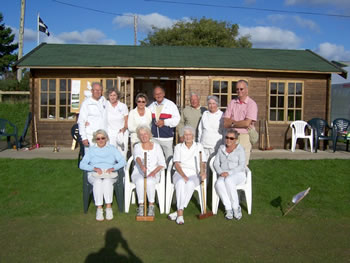 Some of the season's new members.

Standing L to R:
Ian & Jo Williams, Shirley Rowe, Jim Ayling,
Russell Moore, Eileen Fielding and Danny Lang.

Seated L to R: -

Berle Moore, Linda Lang, Pat Hack &
Dorianne Forsdick.

All pictures by Pam George.