THE JENNINGS TROPHY for SHORT-LAWN CROQUET
Sat 23 & Sun 24 Aug 2008
Fourteen members of the club spent the weekend competing for the Jennings Short-Lawn Trophy.
Similar to normal Association Croquet, but played on half size courts with some modified rules, the games consisted of a maximum of 14 points, with a time limit of an hour and a quarter per game, not all the games went the full distance.
The competition was played in two 'leagues': each person played six games, and the person, who gained the most points in each 'league', competed in the final.
The two finalists were Ron George and Stephen Read; Stephen won all his 'league' games with a maximum score of 84 and also pegged out with another maximum score in the final.
The cup was presented by Tony Jennings (trophy donor), who also organised and managed the tournament: he congratulated Stephen as a worthy winner. The club chairman gave a vote of thanks to Tony Jennings, not just for the excellent organisation, but also for arranging a weekend without any rain.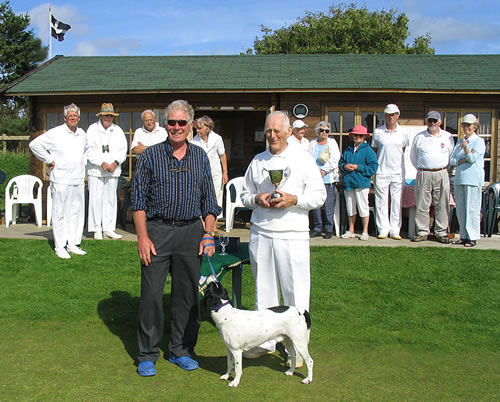 Stephen Read
receiving
The Jennings Trophy
from Tony Jennings
Photo by Margaret Read.