THE READ TROPHY HIGH BISQUERS TOURNAMENT
Sat 9 - Sun 10 Aug 2008
Six of the Club's Association Croquet players with higher handicaps (16 & above) defied the rain, over the weekend, to play in the annual 'Read Trophy' event.
The format this year was for everybody to play each other entrant in an 18-point match over two hours.
Three sessions were programmed for Saturday, with three matches per session.
Play continued through the general rain but, during the third session, the heavens opened and play had to be abandoned for the day. However, the ball positions were all marked so that the matches could be concluded first thing on Sunday morning. The remaining two sessions followed, with a short interruption for a very-heavy squall.
In spite of the rain, there was a high standard of play throughout the weekend.
The eventual winner was Jenny Burrows, who won all five of her matches.
The winner's trophy was presented by Margaret Read, and the Chairman, Ron George, gave a vote of thanks to the event Manager, Tony Backhouse, who congratulated the players on the standard of play in such poor conditions.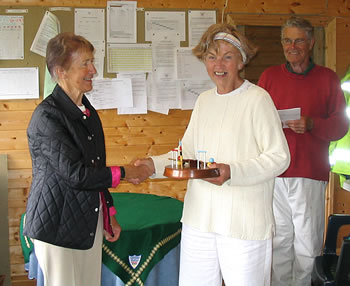 The Read Trophy
being presented to
the winner Jenny Burrows
by Margaret Read (donor).
Photos by Stephen Read.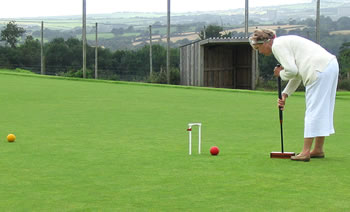 Jenny Burrows
running the winning hoop.