SWF Intermediate league v Taunton Dean
Thu 26 Jun 2008 (played at Taunton)
With an unbeaten record so far, Cornwall had hopes of finishing as area winners.
The morning session started well, with Cornwall's David Edwards & Stephen Read having an easy victory, 22-5, over Taunton's Margaret Huckett & Brian Tooley, neither of whom found form or rhythm. Colin Hadley had a good game, beating David Grose 19-15. Two up at lunchtime looked good for Cornwall, with only one of the afternoon singles needing to be won to take the match.
However, Taunton were by no means discouraged. Hadley, playing Huckett, lost his morning form and was up against an opponent who was now playing very accurately, and in a low scoring game went down 8-13. The first part of Edwards' game against Grose gave little advantage to either player, but just as Grose hit a purple patch of almost immaculate croquet, Edward's form went south, allowing Grose to build a commanding lead. A final flurry of hoops by Edwards could only put some respectability onto the score, a win for Grose 26-14.
So it all depended on Read's game against Taunton's top player, Tooley. Tooley played a canny game, managing to leave Read frequently having to attempt long shots, and establishing a good lead. However, Read fought back, steadily closing the gap, but in the end time ran out, leaving Tooley with an 18-15 win.
So, an excellent fight-back by Taunton Deane ruined Cornwall's high hopes.
Final score: Taunton Deane 3 Cornwall 2.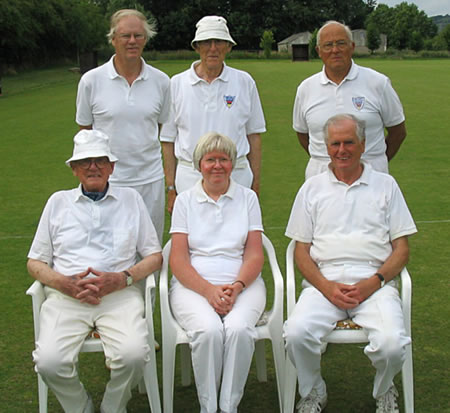 Left to right:

Seated.
Brian Tooley(T),
Margaret Huckett(T),
David Grose(T).

Standing.
David Edwards(C),
Stephen Read(C),
Colin Hadley(C).

Photo by Stephen Read